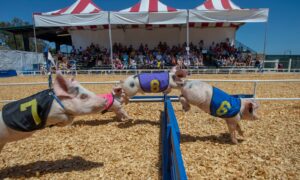 The Orange County Fair is coming back enforce with some fun twists and a slew of new acts recently added to its concert series, organizers say.
Acts at the Pacific Amphitheatre kick off July 16 with The Daily Show host Trevor Noah. A sampling of the entire lineup includes The Happy Together Tour featuring members of the bands The Turtles and The Association perform with The Vogues and The Cowsills on July 18. Cheap Trick and Blue Oyster Cult will appear together Aug. 11 and the concert series will wrap up Aug. 22 with the music of Ramon Ayala and Enigma Norteno.
Over at The Hangar the season is filled with popular cover bands performing favorite hits of acts such as ABBA, Elton John, Metallica, AC/DC, Duran Duran, Elton John, Fleetwood Mac Red Hot Chili Peppers, No Doubt, Pink Floyd, Queen, George Michael, Depeche Mode, Led Zeppelin and more. Mariachi Sol de Mexico de Jose Hernandez will perform on Aug. 8.
This year's theme is "time for fun" and while there will be a reduced number of attractions, some of the changes should make the experience for fairgoers enjoyable while still meeting safety guidelines as outlined by the CDC, organizers said.
Booths and attractions will be spaced out to accommodate distancing and several fair favorites. The popular pig races will move to the Park Plaza area of the grounds. The All-American Racing Pigs shows will remain free with fair admission.
In addition, the fair will cover online ticket sales fees as advanced ticket purchases are required.
The fair board voted earlier this year to keep ticket prices at the 2019 rates which are $12 for weekday general admission (Wednesday and Thursday) and $14 weekend general admission (Friday through Sunday). Seniors aged 60 and older, and children aged five to 12, are $7 every day. Children aged five and younger are admitted free.
Limited capacity of 45,000 fairgoers each day will make for more elbow room, and there will be a reduced number of attractions in order to meet CDC, state and county mandated health directives for public health and safety.  Face coverings will be required, and sales are currently limited to California residents.
For all those hoping to bring home a blue ribbon, entries open April 29 for categories such as woodworking, sugar arts and collections. Horticulture entries open June 4.
Goats, horses, chickens, cattle and more will be in the livestock barns and the resident animals, including baby piglets at Centennial Farm, will welcome visitors.
The junior livestock market week activities and competitions will take place at the fairgrounds prior to the fair's opening and this year's auction will be held virtually July 10.
Super passes purchased in 2020 will be honored in 2021 if no refund was requested. However, the fair will not be selling additional super passes this year due to limited capacity.
The fair will run July 16 through Aug. 15.