Bassem Issa is the highest-ranking Hamas military figure to be killed by Israel since 2014
An Israeli official said on Wednesday that Hamas, the Islamist terrorist group that rules Gaza, should stop attacking Israel or risk complete destruction of its top leaders.
The comments come on the same day that the Israeli Defense Forces (IDF) carried out an airstrike that killed Hamas's top military official in Gaza, Bassem Issa, as well as other top Hamas leaders. Issa is the highest-ranking Hamas military figure to be killed by Israel since the 2014 war in Gaza.
Naftali Bennett, a member of Israel's Knesset and chairman of Yamina, an Israeli political alliance, said in an interview with Al Jazeera that Hamas must cease its attacks against Israel or risk further retaliation and pursuit of its top leaders.
"As long as Hamas keeps [inaudible] deliberate attacks in order to murder Israelis across the state—by the way, Arabs and Jews alike … If Hamas thinks they can get away with this, they're wrong. We'll hunt down every commander, every post, until we win," Bennett said.
He added that Hamas is "spending all its money on terror, on trying to kill Israelis," calling the move "both stupid and wrong."
"It's stupid because they are not going to succeed, because we're strong and we are going to defend ourselves," he said, adding, "We [Israelis] are all united, we stand strong united. And there's one way for this to stop: For Hamas to lay down its arms. And then, it'll stop," Bennett said.
He goes on, "I'm telling every commander, every soldier of Hamas: We're after you. We're coming after you. We're not going to let off. So you might as well stop shooting at Israel."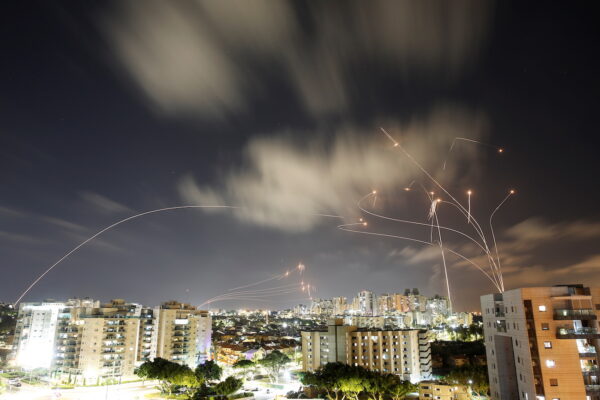 Israel and Hamas have waged multiple conflicts since the terrorist group took control of Gaza in 2007. Israeli airstrikes in retaliation to rockets from Gaza are not rare.
The latest conflict came during the Muslim fasting month of Ramadan, as well as a planned Jewish nationalist march in honor of the annual Jerusalem Day. On May 10, Palestinian rioters and Israeli police clashed in and around the Masjid al-Aqsa Mosque—a compound revered by Jews as the Temple Mount and by Muslims as the Noble Sanctuary.
"Extremist Palestinians planned well in advance to carry out riots today on the Temple Mount. What we see now is the result of that," Ofir Gendelman, a spokesman for Israeli Prime Minister Benjamin Netanyahu, said on Twitter on May 10. "We guarentee [sic] the freedom to pray, not the freedom to riot and attack innocent people. The police is working to restore calm."
Israeli police sought to intervene, in part by firing teargas and stun grenades into the compound to disperse the unruly rioters, as innocent people fled the area, video showed.
Gendelman wrote that extremist Palestinians carried out riots on the morning of May 10 at the compound that they had "planned well in advance" for, adding that the rioters had prepared "rocks and the pieces of intentionally broken furniture" inside a mosque for the riots. He shared video footage from the area on May 10, writing, "Watch: Paestinian rioters throw rocks and firecrackers on the #TempleMount. They stored them overnight, preparing to riot today."
A Twitter post from the Israeli Foreign Ministry alleged that the unrest was in part caused by "violent incitement by Hamas."
Nabil Abu Rudeineh, a spokesman for Palestinian President Mahmoud Abbas, accused so-called "Israeli occupation forces" of conducting a "brutal raid" at the al-Aqsa Mosque, Reuters reported.
Hamas on May 10 demanded that Israel remove its police from the area by 6 p.m. local time. Minutes after 6 p.m., the terrorist group fired more than 150 rockets into Israel. The country retaliated with airstrikes toward the Gaza strip.
Palestinian medical officials said that at least 109 people were killed in Gaza, including 29 children, over the previous four days. On May 13 alone, 52 Palestinians were killed in the Hamas-run enclave, the highest single-day figure since May 10. Seven people were killed in Israel: a soldier patrolling the Gaza border, five Israeli civilians, including two children and an Indian worker, Israeli authorities said.
In a statement, the IDF said that the Hamas and Islamic Jihad terrorist groups have fired over 1,750 rockets toward Israel over the past week. Of those, 300 "misfired and exploded inside Gaza, killing and injuring innocent Gazans in the vicinity." The IDF said that this is part of what accounts for the disproportionate deaths in Gaza and Israel.
The IDF said it has been able to, via its Iron Dome Aerial Defense System, intercept over 90 percent of rockets from the terrorist groups, thereby protecting Israeli civilians. It also explained that Hamas and Islamic Jihad "deliberately place rocket launchers and military sites within densely populated areas in the Gaza Strip."
"In addition, when the IDF warns Gaza civilians to evacuate, Hamas and islamic Jihad encourage civilians to stay instead."
The IDF said that it has struck over 650 terror targets in Gaza, which includes "rocket launch sites, 10 attack tunnels, and killed over 100 Hamas and Islamic Jihad operatives."
On May 14, shortly after midnight local time, the IDF announced that it was conducting massive strikes on Gaza, which involved ground forces participating via artillery fire aimed at the Strip.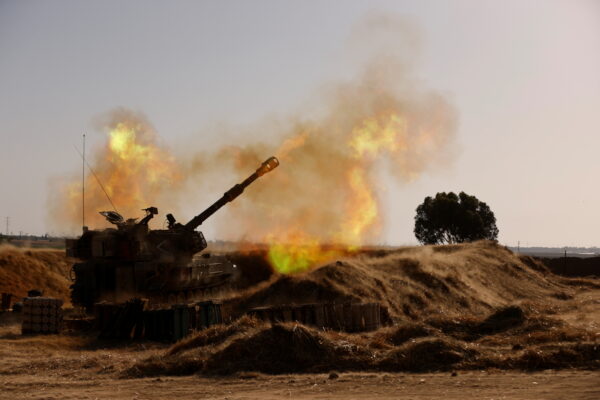 A post from the group's Twitter account that read "IDF air and ground troops are currently attacking in the Gaza Strip," had many news outlets misreport the situation as they had understood from the statement that there were reportedly Israeli ground troops inside the Gaza Strip.
The U.N. Security Council will publicly discuss the worsening violence between Israel and Palestinian terrorists on Sunday, May 16, diplomats said, reaching a compromise over U.S. objections to a meeting on Friday, May 14.
U.S. Secretary of State Antony Blinken said on May 14 he hoped waiting a few days would allow for "diplomacy to have some effect and to see if indeed we get a real de-escalation," adding that Washington was "open to and supportive of a discussion, an open discussion, at the United Nations."
Reuters contributed to this report.