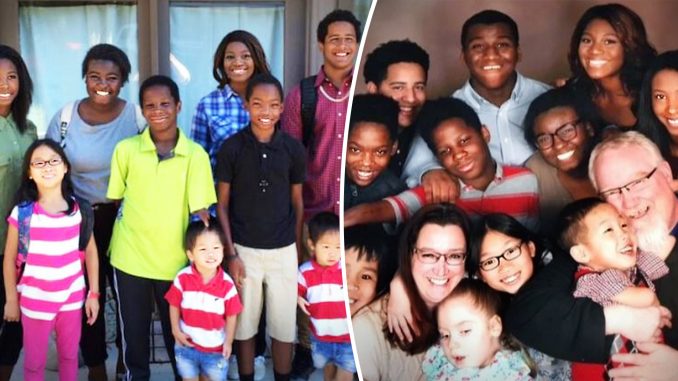 An Illinois couple, passionate about parenting, shared the inspiring story of how they adopted 13 kids into their home—for a tally of 15, including their biological children.
They are now in the process of adopting their 16th child.
After Dale and Ann McKinney, both 54, had their two biological kids, they decided to adopt children with special needs and expanded their family in a big way.
Their love for children saw them adopt 13 more kids of various ethnicities, backgrounds, and challenges.
Speaking in an interview with The Epoch Times, the couple shared their journey in marriage and adoption.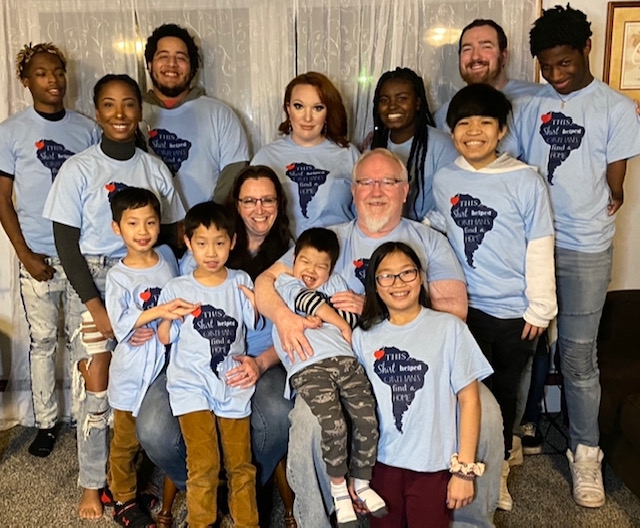 While Dale is a physician assistant working in trauma and critical care at a local hospital, Ann is a stay-at-home mom. The couple met in high school. They lived in the same community.
The two had a mutual friend in high school who was bullied regularly and so they both looked out for her. This interesting intersection drew them closer and they started hanging out more. The death of their friend right after high school strengthened that bond.
"We really weren't that good friends in school," Ann told The Epoch Times. "We didn't meet and just that was it, we were in love. But we had a mutual friend, she kind of got picked on and bullied a lot in school.
"Soon after high school, she actually died from a complication of childbirth. That is when we started seeing more of each other. Her death was kind of what brought us together."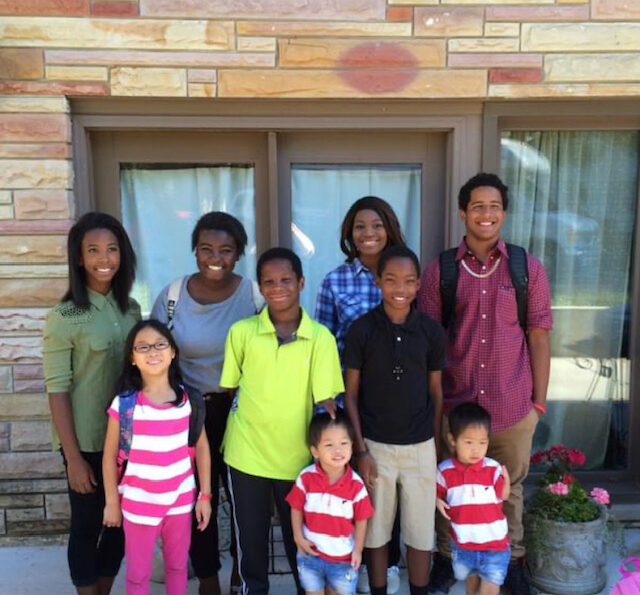 Early in their marriage, Ann did not like the idea of having children at all, while her husband wanted to have a big family.
"Our first two children were biological and they weren't planned," admitted Ann.
After having the first two kids, she pushed her husband into getting a vasectomy, thus halting any new additions—biologically, at least.
However, after the procedure, the couple had a change of heart and started desiring more children.
"I looked at reversing the vasectomy and it is not a guaranteed success, and it hurts like crazy," said Dale. "So I said nope, am not doing that."
That is when their journey of adoption began. Through the advice of their friends, they found an attorney who connected them with birth mothers who were facing crisis pregnancies and making an adoption plan for their babies.
"We contacted this attorney and got matched to a birth mom and that was our first child, Keagan," said Ann in the interview. "It was an amazing experience. We realized that this is awesome, and we wanted to do more of this."
They adopted 8 children domestically, through their adoption attorney. Most of these children have special needs, such as prenatal drug and alcohol exposure, sickle cell disease, cerebral palsy, autism, and limb differences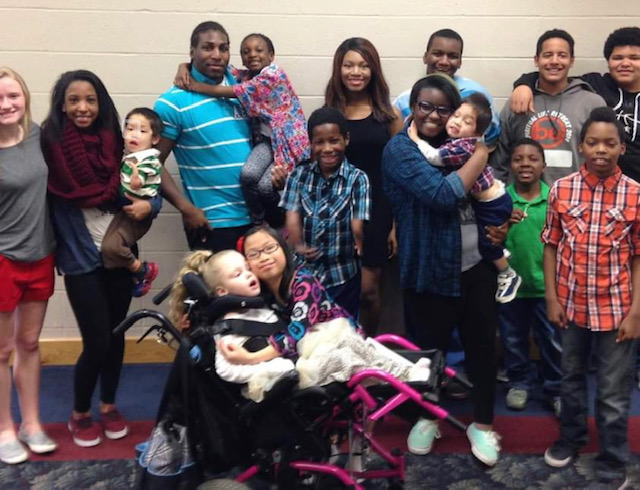 The couple desperately wanted to adopt a baby from China, after hearing a radio program about little orphan girls in the country.
At that time, China was very strict in their requirements for families and the couple didn't qualify to adopt from the communist nation. It took time and patience until the requirements in China changed, making it possible to finally bring their daughter home from overseas.
"Then our next child came from China, her name is MengYan," said Ann.
And so through their attorney, they continued adopting children from different countries, of different races and backgrounds. As their family grew, so too did their love for children continue growing.
The couple shared the challenges they face having a family with so many kids, such as financial strains—exhausting Dale's earnings each month to maintain the family.
"In my job I make a fair amount of money," said Dale. "But we have so many kids, we spend every dime every month."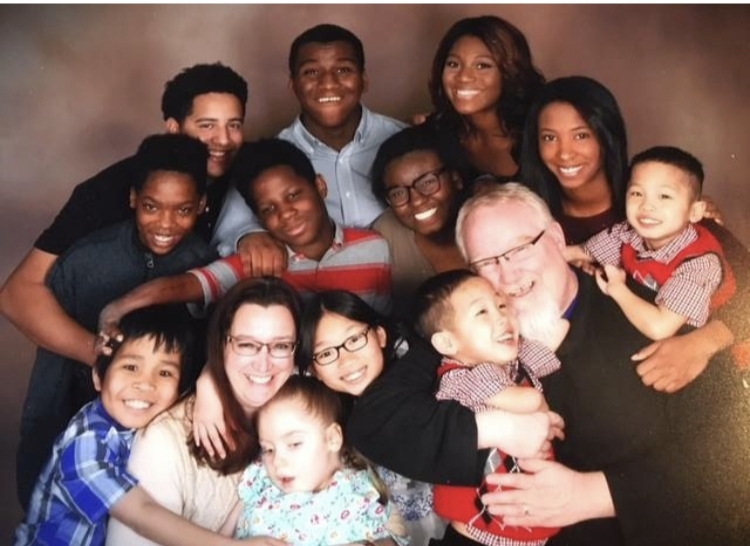 The couple carry out frequent fundraisers to cover the costs of adoption.
"Rummage sales, valentine fundraisers, cupcake sales, dog baths, online auctions, we have applied for any grant that there is," Ann explained.
On her part, Ann touched on the emotional trauma that the kids have to deal with, day in day out. Though not every day, the family face such traumas quite often. Adoption ultimately happens when a child is not able to be parented by their biological parents. There is a lasting trauma that comes with such separation.
For instance, when the children are angry at their current situation, they might take it out on the couple because the children know they are loved unconditionally. Many children from orphanages have difficulties attaching and bonding with their parents and family members. This is something the McKinney's work on daily.
The parents shared that they sometimes find it overwhelming when they go out and people stare at them, curious about their family size.
The outsider perceptions have evolved as the family increased, with some now thinking the family are, in fact, from an orphanage.
"We will be out and someone will be staring at us and we have gotten better," Dale said. "But originally, we would be kind of upset about it and would say, why they keep staring?"
Ann added that it had always made them uncomfortable.
As for preservation of their ethnic heritage, MengYan took a Mandarin course at school but found it hard to retain the language.
To make the kids feel more at home, the couple have tried incorporating Eastern cuisine and culture (somewhat) into the household.
"We eat lots of noodles and lots of dumplings and we love it. And we'll have to incorporate South American culture, Colombian culture when Judith comes, we'll find a way to do that as well," said Dale, referring to their next addition.
Ann has recently written and published a book, "Always Room for More," which details how each child came into their family. It highlights the way children can change your heart and give you purpose.
Share your stories with us at emg.inspired@epochtimes.com, and continue to get your daily dose of inspiration by signing up for the Epoch Inspired newsletter at TheEpochTimes.com/newsletter