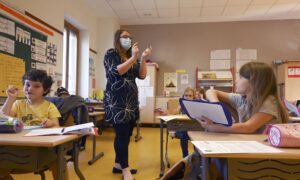 The French government recently banned schools from using certain "gender-neutral" or "inclusive" language in schools, saying it would be destructive to the French language and would prevent people from learning it.
Some leftist groups, politicians, and teacher's unions have attempted to change certain words, adding the midpoints in nouns and adjectives, and sometimes in verbs, in an attempt to make the language more feminine. By doing so, they claim that some traditional French words are too masculine and need feminization.
But a deputy education minister, Nathalie Elimas, on Thursday said that "gender-neutral" and "inclusive" writing in French is "a danger to our country" and will "sound the death knell for the use of French in the world," reported The Associated Press.
"It dislocates words, breaks them into two," she said of some efforts to change the language. "With the spread of inclusive writing, the English language—already quasi-hegemonic across the world—would certainly and perhaps forever defeat the French language."
France's minister of education, Jean-Michel Blanquer, sent a decree to end the use of midpoints that try to designate both male and female endings to words, according to the French education ministry's website, saying it would create confusion for children and foreigners trying to learn the language.
"So-called 'inclusive' writing should be avoided, which notably uses the midpoint to simultaneously reveal the feminine and masculine forms of a word used in the masculine when it is used in one sense," the decree, which was sent to schools across France this month, reads.
"In addition, this writing, which results in the fragmentation of words and agreements, constitutes an obstacle to reading and understanding the written word. The impossibility of verbally transcribing texts using this type of writing hampers reading aloud as well as pronunciation, and consequently learning, especially for the youngest," the ministry added.
France's Education Minister Jean-Michel Blanquer added to the French newspaper Le Journal du Dimanche that students who have learning disabilities are confused by midpoints.
"Putting dots in the middle of words presents a barrier when it comes to teaching the [French] language," Blanquer told Le Journal du Dimanche, reported Newsweek.
But the French teacher's union, SUD Education Union, said it disagrees with the decree.
"SUD Education demands from the Minister that he stop trying to impose his backwardness on the educational community," it said, according to a translation. "SUD calls on staff to take no account of these instructions from another time, and to exercise as they wish, depending on professional situations, the full use of their pedagogical freedom."
The Epoch Times has contacted the French Ministry of Education for comment.
Earlier this year, French President Emanuel Macron warned that left-wing "social science theories entirely imported from the United States," referring to "cancel culture" and leftist ideas about race and gender, is a threat to French society.
"We have left the intellectual debate to others, to those outside of the Republic by ideologizing it, sometimes yielding to other academic traditions," Macron stated in February.