The Biden Administration on Tuesday issued statements condemning rocket attacks aimed at Israel amid escalating tensions between Jerusalem and the Hamas terrorist group across the Gaza strip.
White House press secretary Jen Psaki told reporters at a press conference that President Joe Biden last week "directed his team to engage intensively with senior Israeli and Palestinian officials, as well as leaders throughout the Middle East" to communicate a "clear and consistent message in support of de-escalation."
"The President's support for Israel's security, for its legitimate right to defend itself, and its people is fundamental and will never waver. We condemn ongoing rocket attacks by Hamas and other terrorist groups, including against Jerusalem," Psaki said at a Tuesday press briefing. "We also stand against extremism that has inflicted violence on both communities. Jerusalem, a city of such importance to people of faith around the world, must be a place of coexistence. It is up to the officials, residents, and leaders to restore the city to a place of calm."
National Security Advisor Jake Sullivan spoke with his Israeli counterpart Meir Ben Shabbat and condemned ongoing rocket attacks by Hamas and other terrorist groups against Jerusalem and Tel Aviv, according to a White House statement.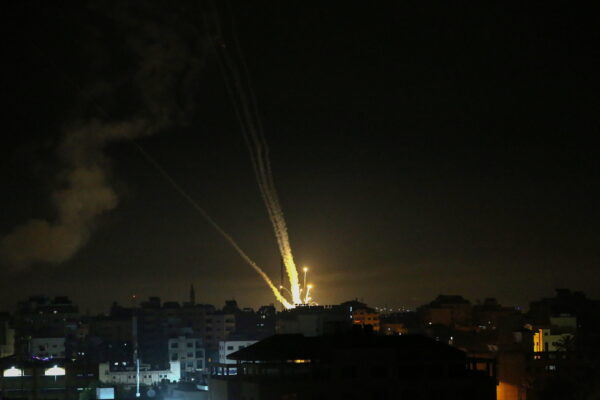 "He conveyed the President's unwavering support for Israel's security and for its legitimate right to defend itself and its people, while protecting civilians. He also conveyed the United States' encouragement of steps toward restoring a sustainable calm," the statement reads. Sullivan also spoke with the Government of Egypt about the matter and discussed ways to restore calm.
State Department spokesperson Ned Price announced in a statement that Secretary of State Antony Blinken spoke with his Israeli counterpart Gabi Ashkenazi—the first time the two diplomats have spoken since April. Blinken "expressed his concerns regarding rocket attacks on Israel and his condolences for the lives lost as a result," Price said.
"The Secretary and the Foreign Minister also discussed the violence in Jerusalem, in particular on the Haram al-Sharif/Temple Mount and in Sheikh Jarrah. The Secretary reiterated his call on all parties to deescalate tensions and bring a halt to the violence, which has claimed the lives of Israeli and Palestinian civilians, including children," he said.
"The Secretary emphasized the need for Israelis and Palestinians to be able to live in safety and security, as well as enjoy equal measures of freedom, security, prosperity, and democracy. Foreign Minister Ashkenazi and Secretary Blinken acknowledged the steadfast partnership between the United States and Israel, and committed to working together on challenges ahead."
Similarly, House Speaker Nancy Pelosi (D-Calif.) late Tuesday condemned the attacks on Israel by the Hamas terrorist group, saying in a statement, "I condemn the escalating and indiscriminate rocket attacks by Hamas against Israel. Israel has the right to defend herself against this assault, which is designed to sow terror and undermine prospects for peace.
"Every civilian death is a tragedy that we mourn. Hamas's accelerating violence only risks killing more civilians, including innocent Palestinians," she said.
The death toll as of early Wednesday rose to at least 40 people—35 Palestinians and five Israelis—according to reports.
Former President Donald Trump also issued a statement following the attacks in which he said, "America must always stand with Israel and make clear that the Palestinians must end the violence, terror, and rocket attacks, and make clear that the U.S. will always strongly support Israel's right to defend itself."
A pipeline belonging to an Israeli state-owned energy company was hit in a rocket attack from Gaza late on Tuesday, an unnamed Israeli government official and an energy sector official told Reuters.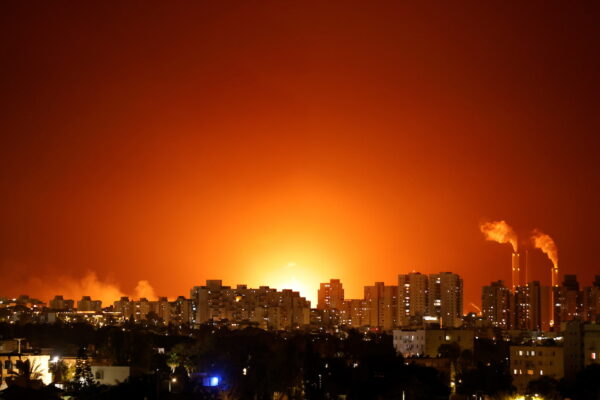 Video broadcast by local media showed flames rising from what appeared to be a large fuel vat near the Israeli Mediterranean city of Ashkelon, south of Tel Aviv. Operations at a power plant in Ashkelon were not interrupted, according to a local Israeli media broadcaster.
The Israel Defense Forces (IDF) has been providing updates about the situation on social media. In its latest post, officials said over 1000 rockets had been fired at Israel within a 38 hour period.
"This. Must. Stop," they wrote in a statement posted at 8.43 a.m. local time Wednesday on Twitter.
In an earlier update, the group wrote, "Terrorists in Gaza are firing rockets non-stop as civilians in central and southern Israel spend their night in shelters to protect themselves from rocket fire." They said that families had been woken up at around 3 a.m. and rushed to bomb shelters.
In another update at 4:37 a.m. local time Wednesday, IDF said that it had experienced hundreds of rockets within the last 24 hour period and responded by striking "terror targets and terror operatives" across the Gaza Strip.
"We are currently striking more terror targets in Gaza," IDF said.
Late on Tuesday, the group said that one of the rockets fired from Gaza toward Tel Aviv and central Israel had "exploded on a civilian bus" and shared an image of the incident.
"Hamas' intentions are clear: kill Israeli civilians," the IDF said. "We won't stand by and let this happen."
One multi-story residential building in Gaza collapsed and another was heavily damaged, according to reports.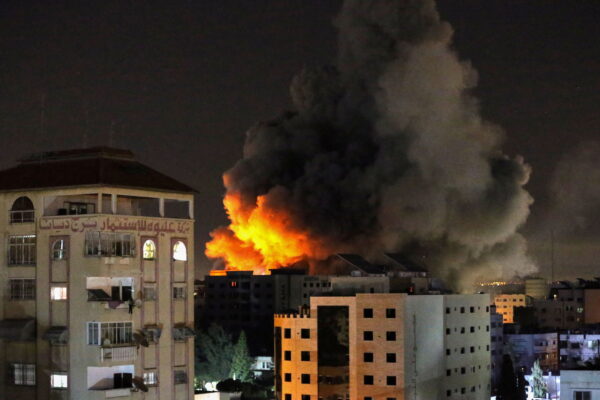 The IDF earlier Tuesday confirmed it had killed Iyad Fathi Faik Sharir, a high-level commander of the Hamas terrorist group. "He was in charge of carrying out anti-tank missile attacks on Israel," the IDF wrote at the time, adding that it would continue to attack Hamas after the terrorist group fired hundreds of rockets into Jerusalem and other parts of the country.
Hamas's armed wing said it fired 210 rockets towards Beersheba and Tel Aviv in response to the bombing of the tower buildings in Gaza City. Israel's military says that around a third of the rockets have fallen short, landing within Gaza.
In the mixed Arab-Jewish town of Lod, near Tel Aviv, two people were killed after a rocket hit a vehicle in the area. Lod and other mixed towns have been gripped by angry demonstrations over the Gaza violence and tensions in Jerusalem.
The violence followed weeks of tension in Jerusalem during the Muslim fasting month of Ramadan, with clashes between Palestinian protesters and Israeli police in and around Al-Aqsa Mosque, on the compound revered by Jews as the Temple Mount and by Muslims as the Noble Sanctuary.
Reuters contributed to this report.