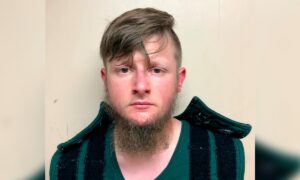 Atlanta massage parlor shooting suspect 22-year-old Robert Aaron Long was indicted Tuesday on murder charges in both Fulton and Cherokee counties, and a prosecutor said her office would pursue enhanced hate crime charges and the death penalty, according to court filings.
The Fulton indictment states that Long was indicted on four counts of murder in the March 16 shootings, along with aggravated assault, domestic terrorism and possession of a weapon during the commission of a felony.
Long was also indicted on four counts of murder, criminal attempt to commit murder, aggravated assault, aggravated battery, possession of a firearm during the commission of a felony, and criminal damage to property in the first degree, according to the Cherokee indictment.
He is accused of opening fire at three Atlanta-area spas, killing eight people, including six of Asian descent.
Fulton County District Attorney Fani Willis also filed notice with the Fulton Superior Court Tuesday that she plans to seek a hate crime sentence enhancement and the death penalty against Long, saying that he targeted some victims because of their race, national origin, sex, and gender.
The hate crime charges are based on the actual or perceived race, national origin, sex, and gender of the four women killed, the notice filed by Willis states. It will "send a message that everyone within this community is valued," Willis told reporters Tuesday.
"Last year, I told the voters of Fulton County that I could not imagine a circumstance where I would seek it," she said. "And at that time, I did not. Unfortunately, a case has arisen in the first few months of my term that I believe warrants it."
Cherokee County's district attorney Shannon Wallace has not signaled that she intends to seek enhanced hate crime charges against Long.
"Today we have taken another step forward in seeking justice for the victims of this crime and for their family members," Wallace said in a statement.
Georgia's new hate crimes law does not provide for a stand-alone hate crime. After a person is convicted of an underlying crime, a jury must determine whether it's motivated by bias, which carries an additional penalty.
Cherokee County Sheriff Frank Reynolds told reporters in March that Long was apparently a frequent visitor at the massage parlors prior to his shooting spree. Many such parlors are known to illegally offer sexual services and are most commonly staffed by Chinese immigrants, many of whom have fallen victim to human trafficking rings.
"The suspect has been interviewed, which indicated he has some issues, potentially sexual addiction. He may have frequented some of these places in the past," Reynolds said, adding that allegedly, the gunman sought to "eliminate the temptation" by committing acts of violence against them.
Reynolds added that "the indicators right now are it may not be. It may be targets of opportunity. Again, we believe that he frequented these places in the past and maybe have been lashing out."
Long has asserted that the shootings were not fueled by racism.
The FBI is assisting both Cherokee County and Atlanta police in investigating the case.
Jack Phillips and The Associated Press contributed to this report.