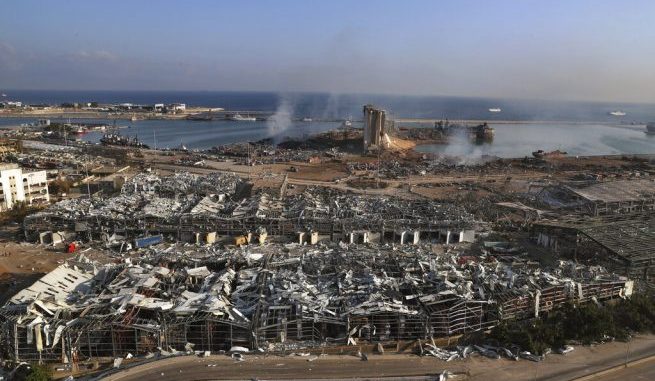 OAN Newsroom
UPDATED 2:20 PM PT — Wednesday, August 5, 2020
New drone video has revealed the damage left behind by the fatal explosion in Lebanon. The clip showed miles of flattened buildings and debris near the shipping port in Beirut.
A warehouse containing thousands of tons of ammonium nitrate erupted on Tuesday, killing at least 135 people and injuring 5,000 more.
Drone footage shows devastation of #Beirut blast

FULL VIDEO: https://t.co/JHSDUk0ZaU#BeirutBlasts#Lebanon pic.twitter.com/GettdacyaF

— Ruptly (@Ruptly) August 5, 2020
This came after President Trump told reporters he had spoken to his top generals, who reportedly told him it was likely a bomb or an attack.
REPORTER: Are you confident the #Beirut explosion was an attack?

PRESIDENT TRUMP: "…I've met with some of our great generals & they seem to feel that it was." — "They would know better than I would. They seem to think … it was a bomb of some kind, yes." pic.twitter.com/2MjVRqAoKE

— Breaking911 (@Breaking911) August 4, 2020
Defense Secretary Mark Esper has commented on the explosion and offered humanitarian support. On Wednesday, Esper reiterated the cause of the blast remains unclear, but noted most believe it was an accident.
He expressed his condolences for those who were killed or injured during the incident. He added he has been working with Secretary of State Mike Pompeo to provide assistance to Lebanon.
"We're reaching out to the Lebanese government, have reached out. We're positioning ourselves to provide whatever assistance we can…to assist the people of Lebanon. Again, it's the right thing to do. It's the humanitarian thing to do in the wake of this tragedy." – Mark Esper, Secretary of Defense
The country has announced it will hold a three-day period of mourning. A two-week state of emergency has also been declared in the city.