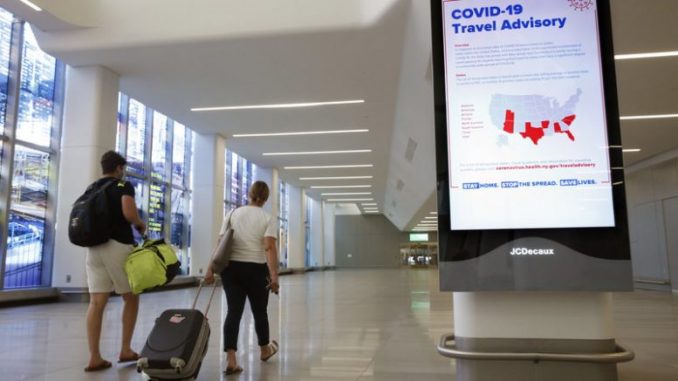 OAN Newsroom
UPDATED 1:35 PM PT — Wednesday, August 5, 2020
New York City has implemented checkpoints to make sure people are following quarantine guidelines amid the pandemic. According to Mayor Bill de Blasio, the changes will be coming to bridges and tunnels across all five boroughs.
Out-of-state travelers arriving in the tri-state area must self-quarantine for 14 days. The city has also been working with tourism and transportation companies to ensure travelers fill out the proper forms.
This morning we announced COVID-19 checkpoints in New York City.

What does that mean? @NYCMayor breaks it down for us: pic.twitter.com/8BAo2waPyi

— City of New York (@nycgov) August 5, 2020
Governor Andrew Cuomo's mandate applies to 34 states and Puerto Rico, which have been experiencing a surge in COVID-19 cases.
Violators could face fines of up to $10,000.
"This is serious stuff, and it's time for everyone to realize it," stated the mayor. "If we're going to hold at this level of health and safety in the city, we have to deal with the fact that quarantine must be applied consistently to anyone who has traveled."
New York City's COVID-19 infection rate has been under 3% for two months. That's extraordinary and it's because of YOU. We've seen what's possible when we all work together. Let's go even further.

— Mayor Bill de Blasio (@NYCMayor) August 5, 2020
Several other areas in the U.S., including Chicago and Massachusetts, also require outside travelers to self-quarantine and show proof of negative COVID-19 tests.