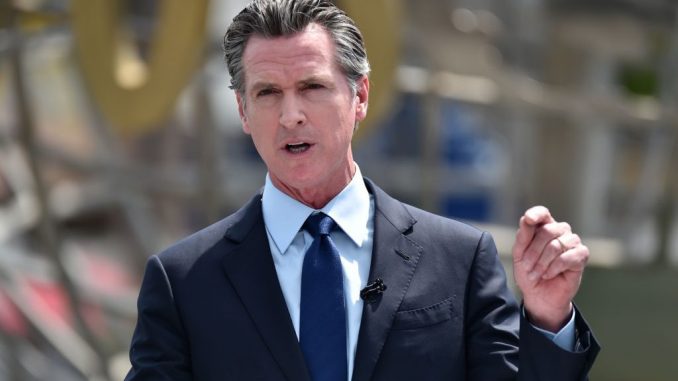 OAN Newsroom
UPDATED 11:32 AM PT – Friday, July 9, 2021
Amid facing an upcoming recall election, Calif. Gov. Gavin Newsom (D) has asked residents and businesses to cut their water use by 15 percent as the state faces an ongoing drought. In a press conference on Thursday, Newsom called for Californians to voluntarily reduce their use of water by taking shorter showers and reducing the frequency of watering lawns.
The announcement comes as reservoirs in the state have reached dangerously low levels. The Democrat also added nine more counties to the state's emergency drought proclamation.
The hots are getting hotter & the dries are getting drier – that is the reality of climate change.

We are expanding the drought emergency proclamation to include 9 more counties – including San Luis Obispo County. This emergency proclamation now covers 50 out of 58 counties. pic.twitter.com/i1oGh6UUpE

— Office of the Governor of California (@CAgovernor) July 8, 2021
The new state of emergency adds to Newsom's still-existent emergency COVID powers, which he extended back in May despite California reopening on June 15. The further expansion of Newsom's powers come as he faces a recall election in Sept. Critics have slammed the governor's recent move as a power grab.
"Over 1.7 million Californians have signed a recall petition. Our state constitution provides them that option," said Rep. Vice Fong (R-Calif.). "They and many more will show up and vote whenever the election is set, but the message sent with this bill proves the public's frustration that politicians will do whatever they can do to stay in power."
According to analysts, nearly one in every two Californians will likely be hit by Newsom's water restrictions. While all Californians across the state are being asked to reduce water consumption, large Democrat-led cities including Los Angeles, San Diego and San Francisco are not included under the emergency proclamation.