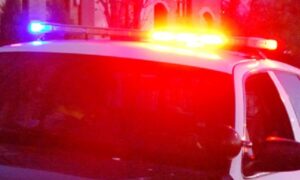 Former Oregon House speaker Dave Hunt, a Democrat, was one of eight men cited by Portland police in an undercover sex traffic sting operation, officials and reports said.
The Portland Police Department said in a May 1 release that its Human Trafficking Unit carried out an undercover operation in April, involving officers posting fake ads on "known human trafficking websites."
The eight men, including Hunt, allegedly contacted the undercover officers to "arrange payment for sexual acts." Police said the individuals were charged with commercial sexual solicitation, a misdemeanor under Oregon law that is punishable by up to 364 days in prison, a fine of up to $6,250, or both.
Clackamas Community College, where Hunt currently serves as a member of the education board, released a statement on May 3, saying they were "shocked" upon learning of Hunt's alleged involvement.
"This morning we learned that Clackamas Community College board of education member Dave Hunt has been cited by Portland police in a sex trafficking sting. We are shocked by this allegation and will take appropriate actions that best serve the interest of our students and our community. Effective immediately, Dave Hunt is taking a leave from the board," wrote Greg Chaimov, chair of the board, and college president Tim Cook, in a joint statement. "We will continue to communicate with you as we learn more, and decisions are made," they added.
A police report cited by the Portland Tribune named Hunt as one of the eight men arrested in the sting, noting that he was taken into custody at a Ramada Inn in Southeast Portland on April 28. Contacted by the outlet, Hunt declined to comment, saying only, "I don't think I should talk about that."
Hunt's attorney, Micheal De Munis, later told the Portland Tribune that his client "denies the allegations, but respects the criminal justice process and will refrain from saying more until he has his opportunity in court."
From 2009 to 2011, Hunt served as speaker of the Oregon House, earlier serving a term as House majority leader. He represented parts of Clackamas County in the state legislature for around a decade.
In November 2008, after Hunt was was elected speaker, an Oregon Live profile described him as a "business coalition executive who considers himself friendly to both the private sector and the environment. He supports abortion rights, civil unions for gays and lesbians, and has served as president of American Baptist Churches USA."
During his time in the legislature, Hunt sponsored multiple bills against sex trafficking. In an ironic twist, he voted for HB 2714 in 2011, the very bill that made commercial sexual solicitation a crime in Oregon and under which he was cited and arrested.