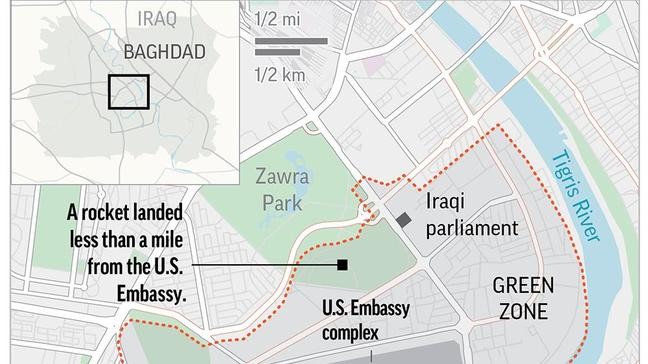 OAN Newsroom
UPDATED 12:56 PM PT – Thursday, July 8, 2021
A trio of rockets landed inside Baghdad's Green Zone on Thursday, causing damage but reportedly injuring no one. Reports said two rockets fell near the national security building and an open courtyard, while a third fell into a residential area.
Officials said the attack destroyed a local mosque. With further surveying of the area, coalition forces said homes and a civilian vehicle were also damaged. Baghdad's Green Zone houses the U.S. Embassy building, as well as other government buildings.
This comes after a rocket attack on Wednesday that targeted the al-Asad air base in western Iraq, which is known to house U.S. troops.
"This is a bad and negative message, which is Iraq still suffers from the use of weapons outside the state's control," said the spokesman for joint operations in Iraq, Tahseen Al-Khafaji. "Therefore, the security forces are determined to maintain the security and safety of our country and will chase all those who use weapons outside state control. We will not allow Iraq to become an arena for settling scores."
It's believed the attacks were launched by Iran-backed militias amid increased tensions as Washington and Baghdad discuss a timeline for pulling troops from Iraq.