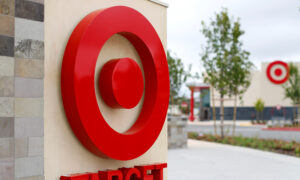 Target announced Monday that they will no longer require face coverings for those who are fully vaccinated but will ask guests who have not complied with CDC vaccination requests to wear a mask in accordance with their new guidelines.
"Target will no longer require fully vaccinated guests and team members to wear face coverings in our stores, except where it's required by local ordinances," stated a press release.
"Face coverings will continue to be strongly recommended for guests and team members who are not fully vaccinated and we'll continue our increased safety and cleaning measures, including social distancing, throughout our stores."
The CDC first announced Thursday and issued a statement Sunday saying that those who are fully vaccinated can stop wearing a face covering.
"Fully vaccinated people can resume activities without wearing a mask or physically distancing, except where required by federal, state, local, tribal, or territorial laws, rules, and regulations, including local business and workplace guidance," the CDC declared.
Target provides incentives and encourages staff and customers to get vaccinated if they have not yet done so.
"Target is offering COVID-19 vaccine appointments at nearly all CVS at Target locations for guests and team members. We're also providing paid time to U.S. hourly team members when they get their vaccines and free Lyft rides, up to $15 each way, for our team to get to and from their appointments," stated the press release.
Fully vaccinated means a person has received the one-shot Johnson & Johnson vaccine or both doses of vaccines from Moderna or Pfizer, and two weeks have elapsed.
Over 120 million Americans, or 36 percent of the population, had been fully vaccinated against the CCP (Chinese Communist Party) virus as of May 14.
Besides Target, other large retailers also followed the CDC's lead.
Walmart, Costco, Sam's Club, Publix, and Trader Joe's all announced that they would not force customers who are fully vaccinated to wear masks in states that do not require the coverings.
In a similar update to the other retailers, Costco said that they will not check for proof of vaccination but hope that customers abide by the revised policy.
Walmart told associates in a note that they would also not need to wear masks unless they are not vaccinated.
Zachary Stieber contributed to this report.