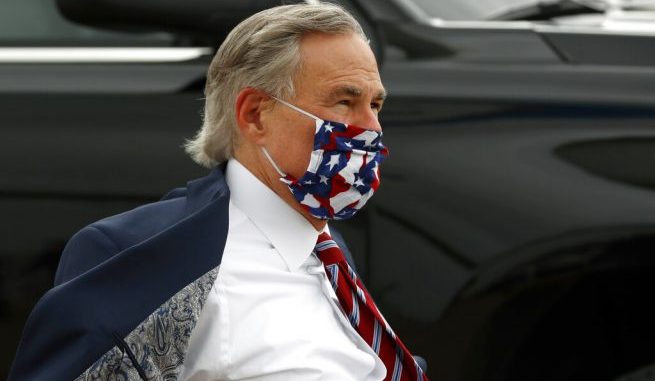 OAN Newsroom
UPDATED 12:33 PM PT — Friday, July 3, 2020
The growing list of lawsuits filed against Texas officials just got a little longer following the governor's latest coronavirus order. According to reports, Texans living in counties with at least 20 positive cases are now required to wear a face mask in public.
"If we can put a mask order into place, then why can't we also force people to wear gloves? Why can't government then also force people to wear hazmat suits when does it end? When does government's role end?" – Jared Woodfill, Houston attorney
Governor Greg Abbott announced the order will go into effect on Friday and suggested violators could face a $250 fine.
"We must do more to slow the spread without locking Texas back down," stated Abbott. "The best ways to keep businesses open while also slowing the spread is for everyone to wear a face covering like this when they go out."
His announcement sparked new lawsuits, which deemed the order unconstitutional, and pushback from leaders within the community. One local opponent was the president of Houston's police union, who spoke against enforcing the order.
"We want everyone to wear a mask, we are encouraging everyone to wear a mask and, in fact, we are all wearing masks to give that example. But does anyone think we actually have the time to enforce this? We can't even get to robberies in progress right now at gun point in less than six minutes, and now you expect us to enforce this?" – Joe Gamaldi, Houston Police Officer Union President
The mandate won't apply to anyone under the age of 10 or those with certain health conditions. Voters, poll workers and people attending religious services will also not be fined for failing to wear a mask. Other exempt activities include eating and working out.
Texas surpassed 8,000 single-day coronavirus cases for the first time this week, but fortunately the state's virus death toll remains low.