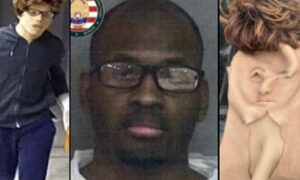 Police said they arrested a suspect who may be linked to more than 30 masked burglaries in Southern California, alleging that he wore a mask and a wig.
Rockim Prowell, 30, was arrested on burglary, grand theft, vandalism, and other charges.
According to a news release from the Beverly Hills Police Department, officers carried out a traffic stop of a vehicle Prowell was driving.
When they investigated him, they found a "face mask and other items" in his car that connected him to two burglaries of residences in Beverly Hills on July 20, 2020, and April 20.
"The license plates attached to the vehicle were also determined to be stolen," police also wrote.
The police department told local media that Prowell was later found to be connected to more than 30 burglaries around Los Angeles after searching his Inglewood home, connecting him to the other crimes.
According to photos posted by police, it appears to show Prowell, who is black, wearing a mask to make himself appear white.
"It was odd this burglar's mouth was always open when seen on surveillance video," the Los Angeles Police Department wrote in a now-deleted tweet, according to CBS Los Angeles. "When he was caught breaking into another home we discovered why."
Anyone with additional information about the burglaries can call the Beverly Hills Police Department at 310-285-2125, while people who want to remain anonymous can text BEVHILLSPD followed by the tip information to 888777, or call Crime Stoppers at 800-222-8477.
It's not clear if Prowell has a lawyer.