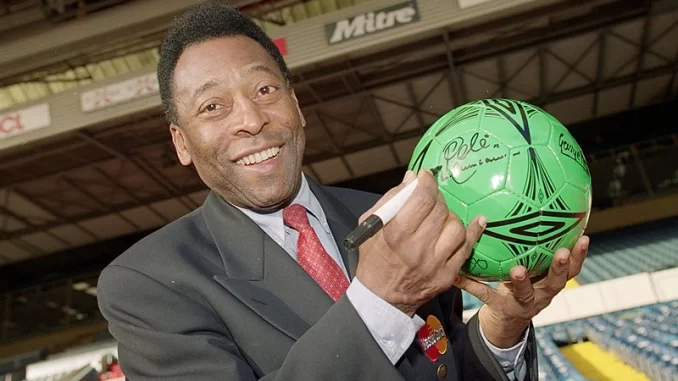 OAN Roy Francis
UPDATED 1:02 PM PT – Tuesday, January 3, 2023
Edson Arantes do Nascimento, also known as Pele, was laid to rest in his hometown of Santos, Brazil on Tuesday morning.
Pele was laid to rest in the city where he grew up, became famous, and had helped make into a global capital of his sport. Mass was held at the Vila Belmiro stadium, and the black casket was driven through the street of Santos in a firetruck. Fans crowded the streets to pay their respect and mourn the legend as he passed by.
The casket was then taken into the Santos' Memorial Cemetery as the Santos team's official song, a catholic hymn was being played. Attendees were singing sambos songs that Pele was known to enjoy before his golden-wrapped casket arrived.
Although fans crowded the street of Santos, some fellow soccer greats were not in attendance. Some of the notable players that were missing were Ricardo Izecson dos Santos Leite also known as Ricardo Kaka, Ronaldo Nazario, and Neymar da Silva Santos Júnior or simply known as Neymar.
Jair Bolsonaro, the former president of Brazil whose term ended on December 31st was also absent from the ceremony. A day before, the former Brazilian president had departed the country on a flight to Florida, avoiding his duty of passing the ceremonial sash to Lula.
"Pelé is the most important Brazilian of all time. He made the sport important for Brazil and he made Brazil important for the world," said attendee, 35-year-old Caio Zalkem.
Throughout the 1960s and 70s, Pele was arguably the most famous athlete. Many Brazilians credit the Santos native with bringing their country to the world stage for the first time.
FIFA President Gianni Infantino said that he thinks every country should have a stadium named after Pele due to his significance to the sport.
"I am here with a lot of emotion, sadness, but also with a smile because he gave us so many smiles," Infantino said. "As FIFA, we will pay a tribute to the 'King' and we ask the whole world to observe a minute of silence."
Pele had been undergoing treat for colon cancer since 2021 when he died on December 29th 2022. The hospital where he passed said that the cause of death was multiple organ failure due to the cancer.
Pele had led Brazil to World Cup titles in 1958, 1962, and 1970 and he remains the only player to this day with three World Cup titles.