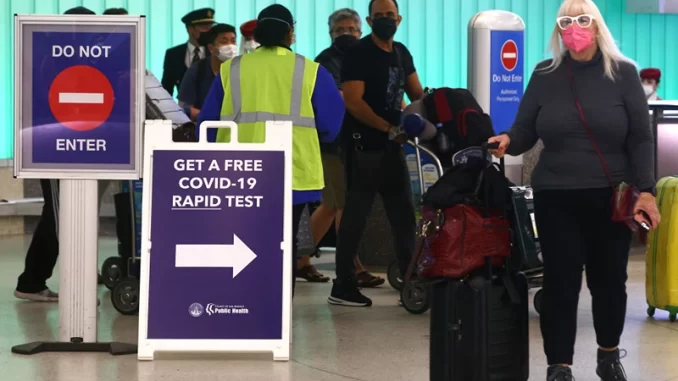 OAN Annyatama Bhowmik
UPDATED 12:17 PM PT – Tuesday, January 3, 2023
The Chinese government has drawn strong criticism for the COVID-19 testing requirements imposed on Chinese travelers.
The authorities have also threatened to take revenge on the concerned countries, which also include the United States and numerous European nations. China's remarks on the issue were its toughest to date. However, Mao did not specify what steps China might take.
Other governments, including the United Kingdom, India, and Japan, have also declared tighter COVID-19 measures on travelers from China in response to worries about the dearth of information and the potential for the emergence of new strains. Australia and Canada joined a growing number of nations this week.
At a daily briefing on Tuesday, Foreign Ministry spokesman Mao Ning made statement.
"We believe that the entry restrictions adopted by some countries targeting China lack scientific basis, and some excessive practices are even more unacceptable." She added. "We are firmly opposed to attempts to manipulate the COVID measures for political purposes and will take countermeasures based on the principle of reciprocity," he said.
French Prime Minister Elisabeth Borne, defended the test. Beginning on Wednesday, passengers traveling from China to France will need to show proof of a recent virus test that was negative and will be subject to random testing when they arrive.
While on France-Info Radio on Tuesday, Borne stated that "We are in our role, my government is in its role, protecting the French."
U.K. Transport Secretary Mark Harper said in a statement that the passengers will be tested on arrival to their country but will not be required a quarantine even if they test positive. The only need for the test is "collecting information" because Beijing is not sharing enough on the Coronavirus data.
Senior Hong Kong government officials have denounced the actions taken by certain other nations. According to the Chinese health officials they have submitted the data to GISAID, a global platform for sharing COVID-19 data.
Mao Ning also mentioned that the WHO and Chinese health authorities recently held a video conference recently to discuss the current COVID situation, medical treatment, vaccination, and other technical issues. In the conference, both parties agreed to continue technical exchanges in order to help end the pandemic as quickly as possible.