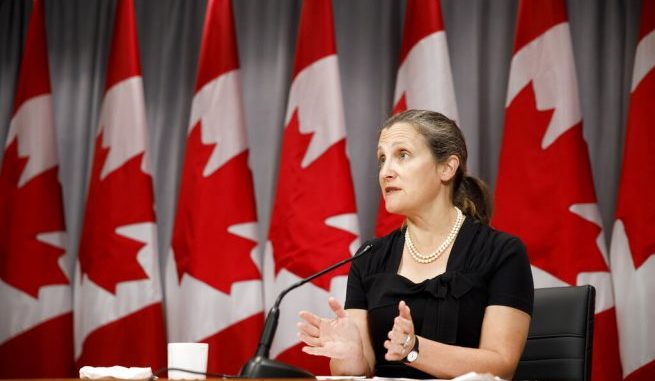 OAN Newsroom
UPDATED 1:25 PM PT — Friday, August 7, 2020
Canada has announced it will be enacting aluminum tariffs on the U.S following the White House's decision to impose tariffs on the country. On Friday, Deputy Prime Minister Chrystia Freeland confirmed the $3.6 billion in tariffs on U.S. aluminum.
"The August 6th announcement by the United States to impose tariffs on certain Canadian aluminum products, citing national security concerns, is unwarranted and unacceptable," said Freeland. "…In response to the American tariffs, Canada intends to swiftly impose dollar-for-dollar countermeasures."
This came after President Trump accused Canada of taking advantage of the U.S. Earlier this week, he claimed the industry had been decimated after being flooded by Canadian aluminum.
The Canadian tariffs are slated to match dollar-for-dollar with the costs of the planned 10% import tariff imposed by the United States.
The deputy prime minister added, "I think the very best outcome would be for the U.S. to reconsider."
The White House has argued the Canadian surge in aluminum threatened national security. The move to reimpose tariffs came a little more than a month after the new USMCA deal went into effect.