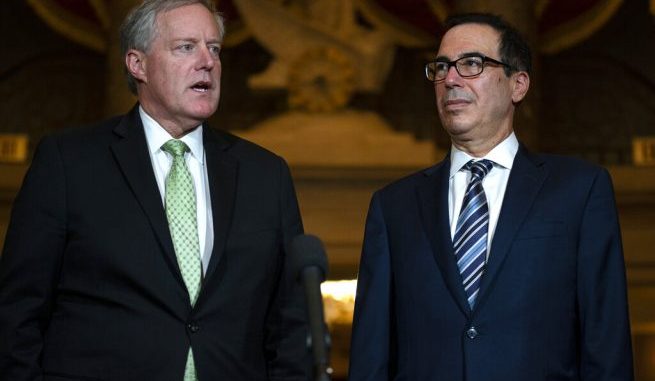 OAN Newsroom
UPDATED 1:00 PM PT — Friday, August 7, 2020
The fate of the next coronavirus relief bill remains up in the air. After meeting with House Speaker Nancy Pelosi (D-Calif.) and Sen. Chuck Schumer (D-N.Y.) on Friday, White House Chief of Staff Mark Meadows and Treasury Secretary Steven Mnuchin announced they "did not make any progress."
The White House has denied Pelosi's offer to cut the Democrat bill by $1 trillion if Republicans increase their proposal by $1 trillion dollars. Both sides remain far apart on the amount of federal unemployment assistance, relief for state and local governments, and liability protections.
Mnuchin and Meadows have recommended the president tackle a payroll tax cut and eviction moratorium via an executive order.
In the meantime, the House speaker has been criticized over her heated exchange with a PBS anchor. On Thursday, Twitter users brought attention to the interview, which was conducted earlier this week between Nancy Pelosi and Judy Woodruff.
During the interview, Woodruff brought up the Republicans' flexibility in distributing money to state and local governments. She also mentioned that most of the money from the previous relief bill has not yet been spent, which appeared to set the House speaker off.
#NancyPelosi flips out at #JudyWoodruff, who works for #PBS, and calls her an 'advocate' for the #GOP because #Woodruff wasn't trying to bury the evidence that Democrats are purposely obstructing the #stimulusbill #NancyPelosi #Pelosi #DoNothingDemocrats pic.twitter.com/jsfToqnT3z

— Sn00pster (@sn00pdad) August 7, 2020
She has claimed Republicans haven't tried to compromise with Democrats on the House's Heroes Act.
President Trump has suggested he will look for ways to help Americans through executive orders if Congress can't come to an agreement.