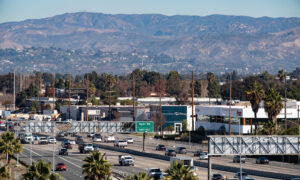 The California Highway Patrol (CHP) says it's seeing a rise in windshields being shattered on California freeways.
The latest cases happened from May 9 to May 10, when four people reported having their windows smashed by an unknown object while traveling along California State Route 91 in Riverside.
In recent months, there have been reports of drivers saying they believed their windows were shot at and shattered on Southern California freeways. No injuries have been reported, and the cause of the incidents is under investigation.
"[This is occurring] definitely more than we see on a normal basis," Officer Dan Olivas, spokesperson for the CHP's Inland Division, told The Epoch Times. "There's definitely been an increase from what we're used to."
A driver on May 9 reported that his rear right and passenger windows shattered as he was driving on the 91 Freeway in Riverside County around 10:40 p.m. Three more incidents on the 91 Freeway were reported May 10 between 5 a.m. and 5:30 a.m.
On May 6, two drivers reported their windows shattering while on the 91 Freeway in Corona and Riverside.
Highway patrol said one of the vehicles could have been shot at with a BB gun.
"It wasn't confirmed, but that's what it may have been due to the size of the hole that looked like roughly the size of a BB," Olivas said.
Olivas said one vehicle's window was held intact by window tint, while the other vehicle's window shattered, making it difficult to determine the cause.
These types of incidents have been on the rise in Southern California, he said.
On April 27, two separate drivers reported their cars were shot at while driving on the 405 Freeway near Westminster, shattering their back windows.
Investigators have not identified the cause of these incidents, and are going on a case-by-case basis to determine if it was road debris or other factors, Olivas said.
He said, however, that due to the sheer number of similar incidents having occurred in close proximity to each other, investigators are looking into the possibility of a perpatrator behing responsible.
"When these things are happening in the same location, with the windows all being shot out, that is definitely something that we're going to start looking into as possibly being somebody that may be doing this," Olivas said. "Investigators are looking into it at this point, just again due to the number of incidents that have occurred."
He added: "We definitely need the public's help when it comes to these things, they happen quickly … If [there are] any commuters are in the area and they see this, we just ask that they contact us as quickly as possible and give us as much information as they possibly can."