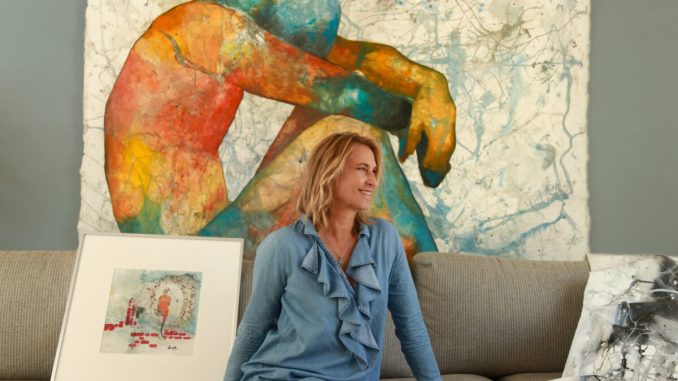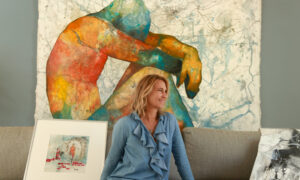 An exhibition of photography and paintings as examples of the healing powers of art is on display through May 29 at the Orange County Center for Contemporary Art in Santa Ana.
Collaborate, Create and Heal: Art Exhibition by Andrea Moni and Yuri Boyko opened May 1, and features painting and photography pieces by each artist focused on the subject of struggle and healing.
In 2015, Moni was the victim of a serious accident that left third-degree burns on nearly 10 percent of her body. She spent 20 days in the hospital recovering, a time she began to look at her artwork as a way of therapy for herself, and others trying to overcome trauma.
Her work begins by setting up a temporary art studio beside a natural body of water such as the ocean. She and her participant paint on a large canvas laid on the sand, using the motions of the waves to assist them in layering natural earth pigments on to the canvas. She's found the process to be an intimate ritual that symbolically washes away memories of traumatic experiences as they create the art and share stories of strength and survival.
Together they work on the painting until they collectively decided it is finished, letting the canvas dry in the sun. Moni would take the pieces to her studio, hose off the sand and dry salt water and finish them by applying her painterly techniques to reveal the hidden images she saw emerge from the work started at the beach.
"Trauma and suffering. Spirituality and healing. Hope and peace. These are words that come to mind when I paint," Moni wrote in a 2017 blog post. "My burn branded my body, my art and my soul. My scars will last forever, but they have fueled my creativity with a new purpose to heal others while making something beautiful."
The photography of Los Angeles-based Yuri Boyko focuses on the state of loss, triumph, pain and pleasure that comes with the deconstruction of identity. The moody photographs mingle the sacred with the profane, his nude figures leaping from the canvas as if to express exuberance.
"Our disillusionment over unfulfilled desires, and our endless struggle to find harmony amid life's many doubts, can reshape our understanding of the world and lead to personal growth, transforming our lives," said Boyko in a press release.
The exhibition of large-scale multimedia paintings by Moni and Boyko's black and white photographs will be on display at the Orange County Center for Contemporary Art until the end of May.