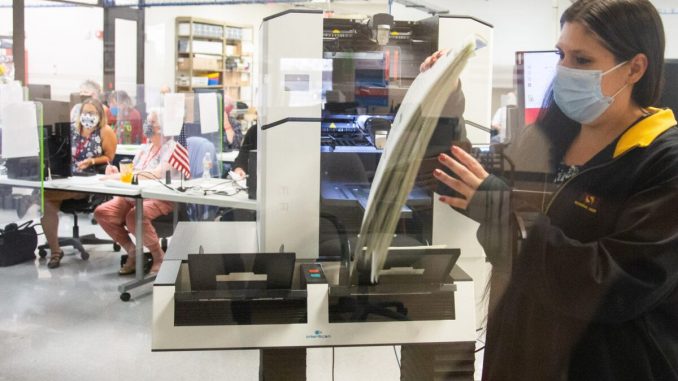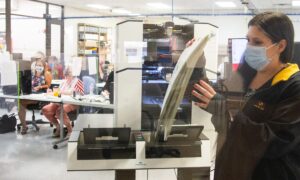 Equipment and over 2 million ballots are being delivered to a coliseum in Arizona's Maricopa County this week in preparation for a 2020 election audit set to start Friday.
Equipment, including 385 tabulators, was delivered and unloaded at the Veterans Memorial Coliseum in Phoenix on Wednesday. Boxes of ballots started arriving on Thursday morning.
Maricopa County officials arranged for the deliveries, which took several trips and were supported by Maricopa County Sheriff's Office personnel, to comply with subpoenas from the state Senate.
Officials tried resisting the subpoenas but were overruled by a judge in February.
Workers with four firms, including Cyber Ninjas, will conduct the audit of 2.1 million ballots starting on Friday. They're receiving $150,000.
A One America News host helped raise at least another $150,000 for the effort.
The audit will be streamed live on One America News. People can also watch the audit online.
Auditors will examine the state's system that checks voters in at polling sites, inspect and hand-count ballots, and probe the electronic voting system.
They will produce a report detailing all their findings about 60 days later.
It's not clear how long the audit will take. The agreement giving auditors use of the coliseum runs through May 14.
Phones and recording devices are not allowed into the observation area, where observers from all political parties, and independents, will watch the ballot counting.
Maricopa County Sheriff's Office personnel will provide security for the audit.
Senate President Karen Fann, a Republican, said last month that the audit will provide assurance that the 2020 results were accurate. Jack Sellers, the Republican chairman of Maricopa County's Board of Supervisors, said on March 31 that two extensive and independent audits the month prior "showed no evidence of equipment malfunction or foul play."
Arizona's Secretary of State Katie Hobbs, a Democrat, has said the audit will be "biased." Her office did not respond to a request for comment.
Arizona's certified presidential election results show Democrat Joe Biden, who won the most electoral votes in 2020 and is now president, garnering 1.67 million votes to former President Donald Trump's 1.66 million.