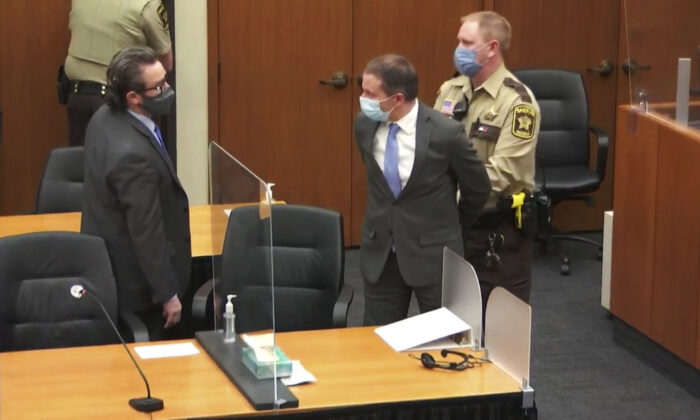 In this image from video, former Minneapolis police officer Derek Chauvin, center, is handcuffed as his lawyer Eric Nelson, left, watches, following the jury convicting Chauvin of three counts in the murder of George Floyd, in Hennepin County, Minn., on April 20, 2021. (Court TV via AP/Pool)
Former Minneapolis police officer Derek Chauvin is being kept isolated in prison as he awaits sentencing following his conviction of three counts in the death of George Floyd.
Chauvin was booked into the Oak Park Heights prison in Stillwater on Tuesday at 4:55 p.m., about an hour after hearing the jury's decision to convict him of second-degree murder, third-degree murder, and second-degree manslaughter charges in Floyd's May 25, 2020, killing.
Chauvin is being kept on "administrative segregation" status for his own safety, Sarah Fitzgerald, a spokeswoman for the Minnesota Department of Corrections, told The Epoch Times in an email.
"Administrative segregation is used when someone's presence in the general population is a safety concern. It's unknown how long he will be there," she said.
As part of the effort to keep the former officer safe, he is being housed in the facility Administrative Control unit, the most secure unit inside the state's only maximum-security prison.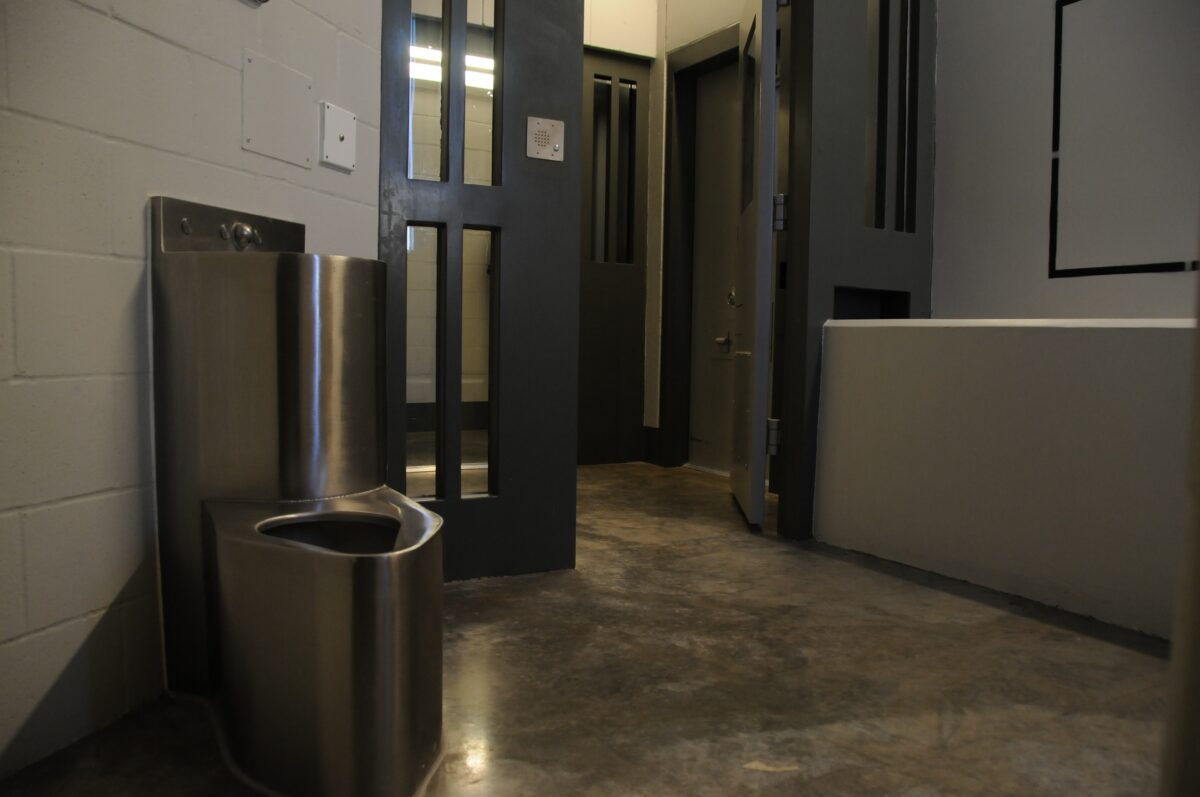 There are 41 people in the unit and cells are monitored by cameras. Correctional officers do rounds at least every 30 minutes.
According to the Minnesota Department of Corrections website, the unit houses individuals for disciplinary reasons as well as concerns of an inmate's safety.
It is used in some cases when an inmate's presence in the jail's general population "could pose a particular safety concern," it states.
Chauvin will have on average one hour for exercise out of his cell. Meals will be delivered and taken inside the cell.
"He is in a single cell and will not have contact with other incarcerated people," Fitzgerald said.
Chauvin was allowed to take items like clothing, writing paper, and toothpaste into the unit with him. Personal mail, legal materials, and an address book are also allowed, among other items. Certain reading materials like newspapers may be approved by officers.
Chauvin's lawyer, Eric Nelson, has not responded to requests for comment, including inquiries regarding how Chauvin is doing in jail.
Chauvin is scheduled to remain at Oak Park Heights until he's sentenced. The sentencing is reportedly set for June 16.