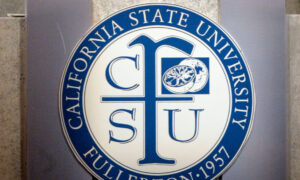 Commentary
The boom is upon us.
That is the economic outlook of California State University–Fullerton (CSU Fullerton) business and economics professors Anil Puri and Mira Farka.
CSU Fullerton held its 2021 Spring Economic Forecast April 21 via Zoom, with speakers including professors, and real estate professionals.
The takeaway? The university expects the economy to grow 6.8 percent this year, Farka told attendees. It would be the fastest U.S. growth rate since the go-go days of the Reagan administration; U.S. GDP in 1984 was 7.2 percent.
GDP Growth Forecast
Farka commented that her 6.8 percent growth expectation for the U.S. economy is personally her "most optimistic ever."
She also said that her assessment might prove too conservative—the economy could grow even faster than the university's forecast.
Buoying the economy are a rapid return of jobs lost during the pandemic as well as very high household wealth. The sum total of all the households in America is now over $130 trillion—by far the highest ever. Household wealth excludes corporations and governments.
Household wealth has been aided by $10 trillion in recent government stimulus, a record-high stock market and booming suburban real estate markets.
Rising House Prices
Being based in Orange County, the CSU Fullerton economic forecast included a special discussion regarding Southern California and Orange County in particular.
The median price for a single family residence for all of Orange County is now $910,000.
Even so, Orange County home prices are expected to increase between five and six percent throughout 2021, and an additional five to six percent in 2022.
Uneven Recovery
The professors noted a number of dangers, including an uneven economic recovery.
Across the U.S., employment for "high earners" is actually one percent higher now than it was in January 2020, two months before the pandemic began in the US.
However, U.S. employment among "low earners" is still 29.7 percent lower than it was in January 2020. Only seven out of 10 low-wage earners still have a job from 15 months ago.
Lurking Dangers
The CSU Fullerton economists also pointed out a number of warning signs.
Money growth is up more than 25 percent from before the pandemic. It means that even though the economic activity shrank, the fed and the treasury increased the amount of dollars in circulation at a rate 25 percent faster than it was creating before the pandemic. This sort of increased money-making often portends higher inflation in the future. Higher inflation is partly what led to America's terrible "stagflation" of the 1970s.
They also point to a worryingly-high, "bubbly" ratio of total stock market capitalization as a percentage of America's GDP. This ratio is named for famous investor Warren Buffet and exceeds 225 percent. This is almost 2 times the ratio when American stock markets were clearly in a bubble during the 1999 "dot com" era.
Furthermore, the economists worry about the possibility of a future unsustainable level of national debt and interest payments. Interest payments may reach 14 percent of the entire federal budget in just four more years and may grow to be unsustainably large.
Rosy Picture
The economists are clearly optimistic about the overall economy and the value of local single family homes.
However, they also point out that higher taxes will cause economic activity to be less than it otherwise would have been, and it still may not be enough to prevent the federal budget deficit from becoming unmanageable.   
Tim Shaler is a professional investor and economist based in Southern California. He is a regular columnist for The Epoch Times, where he exclusively provides some of his original economic analysis.
Views expressed in this article are the opinions of the author and do not necessarily reflect the views of The Epoch Times.