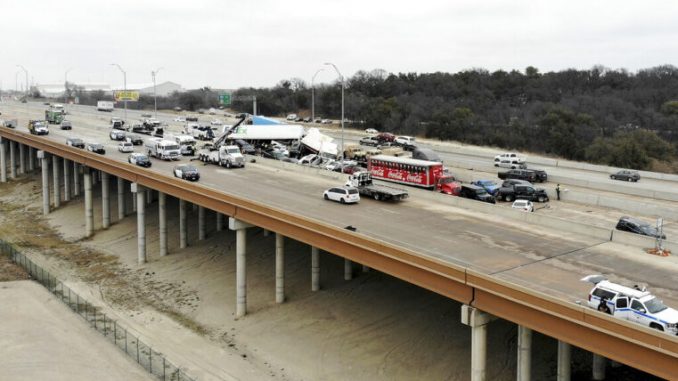 OAN Newsroom
UPDATED 2:20 PM PT – Thursday, February 11, 2021
Rescue teams in Texas worked through the wreckage of a massive crash on a highway in Fort Worth on Thursday. Authorities said icy roads were the main reason behind the crash, which killed at least five people and involved at least 80 cars.
The pileup was reportedly spurred by one single crash. When a driver got out to check the damage to his car, he was hit by several other vehicles, killing him.
About 100 vehicles were involved in a pileup on an icy highway in Fort Worth, Texas Thursday (2/11). At least five people were killed and many others were trapped in their cars, according to the Forth Worth Police Department. pic.twitter.com/HTAQsE8NcT

— CBS Newspath (@cbsnewspath) February 11, 2021
The Fort Worth Police Department emphasized several people were still trapped in their vehicles hours after the initial accident and urged people to avoid the highway.
Update on I35 accident – 10:22a.m. 02/11/2012 https://t.co/tV1yvpzDJ1

— Fort Worth Police (@fortworthpd) February 11, 2021
"Please keep in mind that the weather is still very aggressive. So keep your distance, slow down and always wear your seatbelt," Officer Daniel Segura of the Forth Worth Police Department stated. "Thank you for everyone's support, the whole community. Please keep the families in your prayers as we continue with this ongoing and very active accident scene on north Fort Worth."
Authorities added the harsh weather has been causing dangerous road conditions and they encouraged safe driving practices.