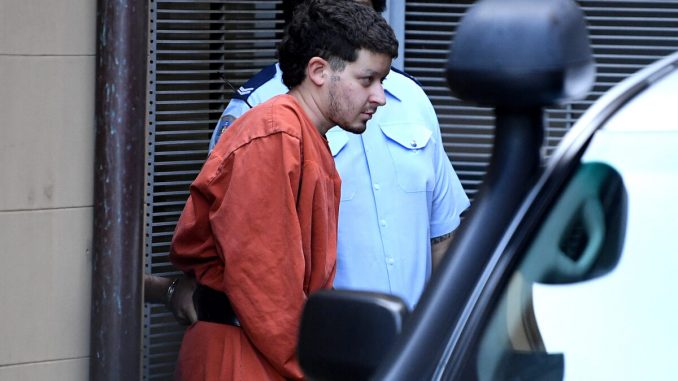 A man who went on a violent rampage in Sydney's CBD after murdering a vulnerable woman in a "cruel, brutal attack" has been jailed for at least 33 years.
Mert Ney pleaded guilty to the unprovoked stabbing murder of escort Michaela Dunn, 24, in a Clarence Street apartment on Aug. 13, 2019, after he booked in for a sex work appointment.
After repeatedly stabbing her and cutting her throat, he filmed himself standing over her body at the bloodied scene and sent the video to a man on Facebook.
"I'm [expletive] psycho," he wrote. "I was laughing bro. The fear."
The 22-year-old also admitted wounding with intent to cause grievous bodily harm for stabbing Lin Bo during his frightening rampage, which only came to an end after bystanders intervened.
In the NSW Supreme Court on May 14, Justice Peter Johnson jailed him for 44 years with a non-parole period of 33 years, describing his actions as a "violent, terrifying and chaotic rampage."
As Ney was led away from the dock a woman in the public gallery shouted "monster."
"The offender is a dangerous man and continues to be a dangerous man," the judge said.
But because of Ney's mental health issues, he rejected the Crown's submission that he should be jailed for the rest of his life.
Outside court, Dunn's sister, Emily described her beloved sibling as funny and kind.
"I am not angry because there is no point in being angry but I am really really frustrated with the system.
"There were so many times that could and should have stopped what happened on the day Mikki died.
"There would have been so many opportunities to stop the crimes, the murders of 62 other women who died at the hands of men in the year that Mikki died."
The judge found Ney had gone into the city with a knife to murder a young woman, to use violence and to terrify people.
He had been affected by a mental disorder at the time, but this hadn't affected his ability to make his plan and implement the steps to carry it out.
The unemployed young man had only $2 in cash and no credit card when he made the appointment with Dunn, who had been alone and vulnerable in an apartment with a stranger.
After murdering her, he donned a balaclava and ran through the streets brandishing a knife, stabbing Bo in the back and just missing another woman.
Justice Johnson praised the actions of bystanders who bravely chased Ney before he was eventually restrained with a milk crate and a chair.
Although Ney had yelled "Allahu Akbar" on the street and delivered the ISIS terrorist group salute, the judge found he was not a religious zealot and the crimes did not relate to terrorism.
Ney presented as a "self-centred individual with no concern for others" and had given a matter-of-fact account of the killing when he gave evidence at his sentence hearing.
Ney's prospects of returning to the community and living a lawful life in the future appeared to be "bleak in the extreme."
Emily Dunn told reporters the family was trying hard to leave the frustration behind and craft their future in a way that would honour her sister.
"We'll always make space in our lives for an Aperol spritz and some cat photos," she said.
"We'll always make time for rich experiences shared with the ones that we love and we'll always prioritise love and laughter in our families.
"It's time now for us to try and move forward."
By Margaret Scheikowski