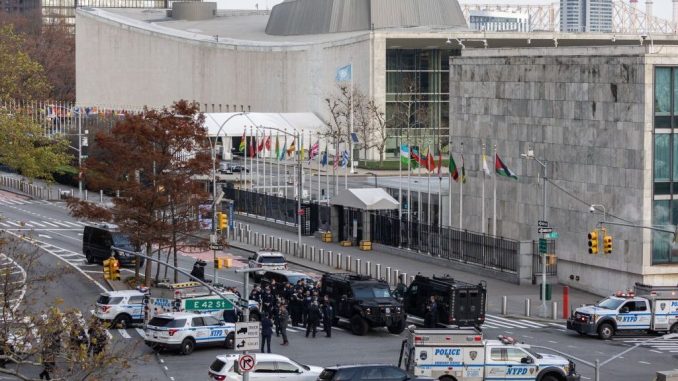 OAN Newsroom
UPDATED 3:06 PM PT – Thursday, December 2, 2021
A man was arrested Thursday morning, after an hours-long standoff, which prompted a lockdown at the UN complex in Manhattan. The New York Police Department (NYPD) said the incident is not terror-related.
During a press conference on Thursday, officials said the man seen pacing along the front entrance with a loaded shotgun at one point to his head, surrendered peacefully. He reportedly drove from Florida, checked in to a nearby hotel a few days prior, and wanted papers delivered to the UN headquarters.
Police confirmed the documents were some sort of medical records. The man was soon taken to a local hospital for observation.
Watch as NYPD executives provide an update on the armed man outside the United Nations in Manhattan. https://t.co/4MLkkasJpN

— NYPD NEWS (@NYPDnews) December 2, 2021
Police said the bomb squad swept his hotel and truck, and determined there was no outstanding threat to the public. While they are not releasing the suspect's name, they say he doesn't have a criminal record.
In the meantime, operations are back to normal at the facility, charges are pending against the man, and an investigation is underway.