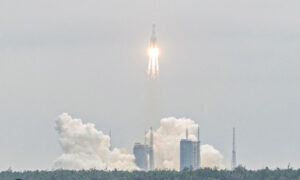 A 20-ton rocket returns to Earth, traveling 17,000 miles per hour in its approach. No one was hurt. But China's reckless handling of the rocket's return is drawing backlash.
Vaccine quotas have turned into political performance tools in some Chinese cities. Communities in Shanghai are urging people to get vaccinated, even promising money and coupons as compensation. But some are questioning their motives.
The World Health Organization approves China's Sinopharm vaccine, though some raise doubts that the vaccine is really safe.
Three Christian preachers are detained in China. Their arrests come as Beijing ramps up its crackdown on religious leaders.
Subscribe to our YouTube channel for more first-hand news from China.
For more news and videos, please visit our website and Twitter.