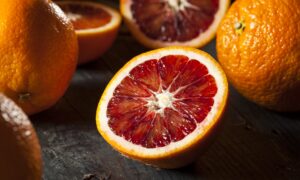 This first-course salad is best in the spring months, when the vivid, maroon-colored blood oranges, now grown commercially in California, make their appearance. Blood oranges have a distinctively rich orange flavor, with raspberry overtones, that has been featured in the Mediterranean diet for centuries.
This update on the classic grapefruit and avocado combination includes thinly sliced white mushrooms, which offer a pleasant textural contrast. You can serve this as a first-course salad or make it into a main-course salad with shredded cooked chicken breast, fresh crabmeat, or shrimp. Serve a baguette on the side with herbed butter.
Blood Orange, Mushroom, and Avocado Salad
Serves 4 to 6
For the Dressing
1 medium shallot, finely chopped
Juice of 1 medium blood orange (about 1/3 cup)
1 tablespoon balsamic vinegar
1/2 cup olive oil
1/2 teaspoon salt
1/4 teaspoon black pepper
For the Salad
2 medium heads of butter lettuce, torn into bite-sized pieces or 1/2 pound spring mix greens
2 blood oranges, peeled and cut into 1-inch pieces
6 medium mushrooms, thinly sliced
1 ripe medium avocado, peeled, pitted, and sliced into 1/4-inch slices
For the dressing, finely chop the shallot in a food processor fitted with the metal blade and with the motor running, add the orange juice and vinegar. Slowly add the oil until it is completely incorporated. Add the salt and pepper. Taste for seasoning.
Arrange the butter lettuce in a shallow salad bowl. Place the orange pieces and mushrooms on top of the lettuce in an attractive pattern to make a pretty presentation before tossing.
When you're ready to serve, arrange the avocado slices around the outside edge of the bowl. Toss the salad with the dressing and serve.
Advance Preparation: The salad can be arranged up to four hours ahead, without the avocado slices and dressing, covered, and refrigerated. The dressing can be prepared up to two days ahead, covered, and refrigerated.
Diane Rossen Worthington is an authority on new American cooking. She is the author of 18 cookbooks, including "Seriously Simple Parties," and a James Beard Award-winning radio show host. You can contact her at SeriouslySimple.com Copyright 2021 Diane Rossen Worthington. Distributed by Tribune Content Agency, LLC.