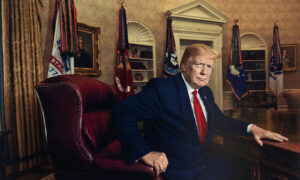 The portrait of former President Donald Trump that will hang in the National Portrait Gallery in Washington is a photograph taken by Pari Dukovic in 2019 at the White House.
Trump is seen in the picture looking straight at the camera, seated in the chair behind the Resolute Desk in the Oval Office.
The picture was taken on the day before Trump officially announced he would seek a second term, and as the Republican dealt with the COVID-19 pandemic.
In the background can be seen flags reflecting the five branches of the armed forces, a portrait of former President Andrew Jackson, and a portrait of the inventor Benjamin Franklin.
Trump and Dukovic did not respond to requests for comment on the picture.
The label that is affixed next to the portrait in the gallery notes that Trump won office in 2016 "after tapping into populist American sentiment" and with the promotion of an "America First" agenda, delivering on major campaign promises like reducing illegal immigration, cutting unemployment, and appointing conservative judges.
"More Americans voted in the 2020 presidential election than ever before, and the majority elected Joseph R. Biden Jr. Nevertheless, Trump did not concede, and a mob of his supporters, who refused to accept the results, attacked the U.S. Capitol complex on January 6, 2021, when Congress was working to certify Biden's win," the label also states.
The gallery, a Smithsonian museum, has been closed to in-person visits during the pandemic. Officials plan to open the gallery to the public beginning May 14 with timed-entry passes required for all visitors.
Passes are free.
The photograph snapped by the New York-based Dukovic is not Trump's permanent portrait. Planning for the permanent portrait is still in the conversation stages, Concetta Duncan, head of communications at the gallery, told The Epoch Times via email on April 1.
The temporary portrait will not have an unveiling event. That is reserved for the actual commission.