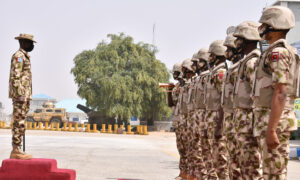 The military of Nigeria, Africa's most populous state, is scrambling to contain an invasion of ISIS-allied Boko Haram in its bandit-prone Northwestern State of Niger, according to media reports.
Gov. Sani Bello of Niger State called for an immediate counterattack by the Army to dislodge bandits and "elements of Boko Haram" that have displaced 3,000 terrified citizens during the last week.
"I just heard that they have already placed their flag in Kauri, which means they have taken the territory, and this is what we have been engaging the Federal Government with, and unfortunately it has now gotten to this stage that if care is not taken, nobody is safe, not even Abuja is safe," the governor said Monday morning to press at an IDP (internally displaced persons) camp 45 km west of the state capital of Minna.
"Wives have been seized and forcefully attached to Boko Haram members," the governor said. "They are claiming  it as their territory and  will use it just as they have used Sambisa Forest," he said, referring to the vast arid bushland in the Northeastern region of the country where Boko Haram terrorists have sheltered in hidden bunkers for 11 years.
"Yet, Sambisa Forest is hundreds of kilometers away, whereas Shiroro is just two-hours' drive from Abuja. Even Abuja is not safe," he told a TV crew from Channels TV.
The governor understated the driving distance, but he has raised a valid concern for the nation's security, according to Luka Binniyat, an independent reporter in Kaduna who has worked in Niger State.
"Kawuri is about 200 km from Abuja, but due to the rough nature of the road, it takes nothing less than 4 hours to get to Abuja," Binniyat tells The Epoch Times.
"That stretch passes through a continuous wilderness that crosses the Shiroro gorge, traversing thousands of hectares of Savanah, forests and streams down to Chikun Local Governance area of Kaduna state," wrote Binniyat, who has begun mapping the areas of western Kaduna that have witnessed invasion of bandits and herders and displacement of Christian farmers.
"Already 12 major communities, chiefly Christian ethnic groups that form Chikun LGA [local government area, an administrative unit similar to an American county] have been displaced. If the outlaws are truly Boko Haram as the governor said, they may be occupying a landmass close to the size of Abia State," Binniyat wrote in an email to The Epoch Times. Nigeria's Abia State is approximately half the area of the U.S. State of Connecticut.
"The so-called Sambisa 'Forest' of Borno State is not a forest in the real sense," according to reporter Binniyat. "It is a vast area of maybe 2000 square kilometers of Sahelian scrubland dotted with thorn trees. There is no forest anywhere in Sambisa. It's valleys are dry throughout the dry season.
"Its most strategic advantage to Boko Haram is that Sambisa borders the Nigerian side of the treacherous mountain border with Cameroon republic," Binniyat wrote. "But its newly acquired territory in Niger and neighboring Kaduna state holds even better prospects for the terror group."
"The Shiroro- Chikun stretch is part of the forest Savannah with tall-canopied evergreen trees," he writes. "It is served by perennial streams lined with thick forests. The numerous hills hold caves for hidden bases. Besides that, the great Kaduna river flows through the area, giving insurgents the advantage of using boats. It's a frightening prospect."
The relocation and establishment of Boko Haram units allied with bandit gangs mounted on motorcycles with AK47s could be a "kinetic game-changer," according to David Otto, a London-based Counter Terrorism and Defense consultant and Boko Haram Expert.
"There is an established Boko-Haram unit in Niger state," Otto told The Epoch Times, adding, "This is extremely serious and poses a direct and imminent threat to the federal capital territory of Abuja."
"It is also perhaps a third phase of Boko Haram. What we don't know yet is whether it's linked to the Boko Haram faction of Abubakar Shekau or Islamic State of West Africa (ISWAP) or a new and independent faction, but what is certain is that this jihadist group has set up shop too close for comfort to the Federal Capital Territory of Abuja—a concern not only for Nigeria but every entity that has a dog in the Nigerian territory small or big."
The incursion of Boko Haram elements followed military setbacks against armed bandit gangs in the state three weeks ago when the army lost seven soldiers in clashes with the radicalized bandits, many of whom are committed to jihad, as is the Boko Haram insurgency that has linked itself to Islamic State of Iraq and Syria (ISIS).
In the same week the army was tied up in Niger State, a violent insurrection against military authority in the verdant state of Benue in south-central Nigeria left 12 soldiers dead on April 5 and unleashed a punitive campaign against a local militia that continues.
The Nigerian soldiers entered the state to end a communal clash between rival tribes, according to military spokesmen, but a local armed group dubbed the "Bonta Boys" has been blamed for ambushing the army unit crammed into a truck, executing all, and burning their corpses afterward, according to military spokesmen.
From April 6, the Nigerian military has burned and bulldozed its way across dozens of villages home to the Tiv ethnicity, giving rise to a fog of competing narratives as to what is really happening.
Nigerian authorities are juggling multiple security challenges all at once, Otto tells The Epoch Times: a new sector of Boko Haram insurgency, a tribal insurrection in its Middle Belt, and rolling banditry in 14 states.
The fight against trans-regional terrorism suffered a loss one week ago, with the news that President Idriss Deby of Chad had died after a battle with rebels. Deby, the authoritarian president of Chad for 30 years, was a key ally in the fight to contain Islamic State insurgents in the region.
"It stretches the state security architecture to an unimaginable level," according to Otto. "With Idriss Deby out of the picture, Chad is in Chaos; the Niger Republic is in tatters as the new administration struggles to survive. Cameroun is in trouble in its North West and South West region.
"All of which means Nigeria will have to think outside of the box to address it's multiple threats including a new jihadist group that has popped up just next door to the capital of the world's most populous black nation," Otto wrote.
"An effective counter strategy must begin by going back to the drawing board for the design of a comprehensive and robust Nigerian national security strategy," Otto added.