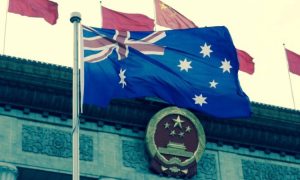 The Chinese regime has "indefinitely" suspended all future activities under the China-Australia Strategic Economic Dialogue, following last month's termination of the Belt and Road Initiative agreement by Foreign Minister Marise Payne.
The move has been deemed largely symbolic as Australian ministers have been unable to contact their Chinese counterparts for over a year now.
On Thursday, the National Development and Reform Commission (NDRC) issued the statement claiming that "Recently, some Australian Commonwealth government officials launched a series of measures to disrupt the normal exchanges and cooperation between China and Australia out of a Cold War mindset and ideological discrimination."
"Based on the current attitude of the Australian Commonwealth government toward China-Australia cooperation, the NDRC of the People's Republic of China has decided to indefinitely suspend all activities under the framework of the China-Australia Strategic Economic Dialogue."
The Dialogue was established in 2013 by former Gillard government Foreign Minister Bob Carr and Trade Minister Craig Emerson.
The third and last meeting held under the Dialogue was in 2017, when Prime Minister Scott Morrison, then treasurer, met with Chinese investors and Chair of the NDRC, He Lifeng.
Despite the suspension, China will likely continue to buy large quantities of Australian iron ore, which has seen prices balloon to ten-year highs.
Meanwhile, the NDRC is also a key driver behind the Belt and Road Initiative (BRI). The state body signed two BRI agreements with Victorian Premier Daniel Andrews in 2018 and 2019.
These agreements were cancelled by Foreign Minister Payne last month, who said they were inconsistent with Australia's "foreign policy" objectives. The BRI has been accused of being a "trojan horse" and leaving developing countries heavily in debt due to predatory loan practices.
In response to the cancellation, the Chinese Embassy in Canberra said the move was "unreasonable and provocative."
While Foreign Ministry spokesperson Wang Wenbin urged Australia to "revoke" the decision or Beijing would "resolutely take strong actions."
Suspension of the Dialogue marks the first major material response to the BRI being axed.
Jeffrey Wilson, research director of the Perth USAsia Centre, said the Chinese Communist Party (CCP) had "run out of ammunition."
"By going 'thermonuclear' on trade in 2020, they now have no substantive ways to punish Australia anymore and have to scrap around for impact-free acts of pure symbolism," he wrote on Twitter.
"China has placed sanctions against practically all Australian exports it can, investment has collapsed, and intergovernmental discussions are non-existent," he added. "It now has no substantive leverage over Australia and has to resort to largely meaningless acts of symbolism."
Over the course of 2020, Beijing implemented a series of tariffs and suspensions targeting key Australian exports, including coal, beef, wine, barley, lobster, timber, lamb, and cotton.
The economic coercion campaign began after Australia led the charge in calling for an investigation into the origins of COVID-19.