Former President George W. Bush waded into the controversy around the "America First Caucus" initiative, saying in a recent interview that if the Republican Party stands for "exclusivity" and "white Anglo-Saxon Protestantism," then it will be rejected by voters.
Bush was asked in an interview on The Dispatch Podcast last week about leaked plans for the caucus that referenced "Anglo-Saxon political traditions," with the former president saying that, "if the Republican Party stands for exclusivity, you know, used to be country clubs, now evidently it's white Anglo-Saxon Protestantism, then it's not going to win anything."
His remarks come as the Republican Party tangles with competing visions for its future, with one faction looking to extend former President Donald Trump's "America First" approach, with its emphasis on illegal immigration curbs and protections for American labor, and the other faction pushing for something that looks more like the Bush-era GOP.
The former president has, in recent weeks, described the GOP as "isolationist, protectionist and, to a certain extent, nativist," while arguing for a softer approach on immigration.
Bush's remarks also come after a document outlining the "America First Caucus" was published by a media outlet in mid-April, drawing criticism from Democrats and Republicans for phrases such as, "America is a nation with a border, and a culture, strengthened by a common respect for uniquely Anglo-Saxon political traditions."
The document also said legal immigration should be limited to people who "have demonstrated respect for this nation's culture and rule of law" while arguing that, "America's borders must be defended, and illegal immigration must be stopped without exception."
Critics said some of the language in the document was hateful and racist.
Broadly, the document says the caucus would exist "to promote congressional policies that are to the long-term benefit of the American nation," and would focus on issues like nationwide election reform, limiting the power of Big Tech, and cutting down on illegal immigration. It also notes that the caucus follows in the footsteps of former President Donald Trump.
Punchbowl News, which published the seven-page document (pdf) that outlines the caucus's platform, reported that Rep. Marjorie Taylor Greene (R-Ga.) was leading its creation, with Greene's spokesperson initially telling CNN that she was helping get the initiative off the ground, but later saying she was not. Greene's office has not returned requests for comment.
"The Congresswoman wants to make clear that she is not launching anything. This was an early planning proposal and nothing was agreed to or approved," the spokesperson said.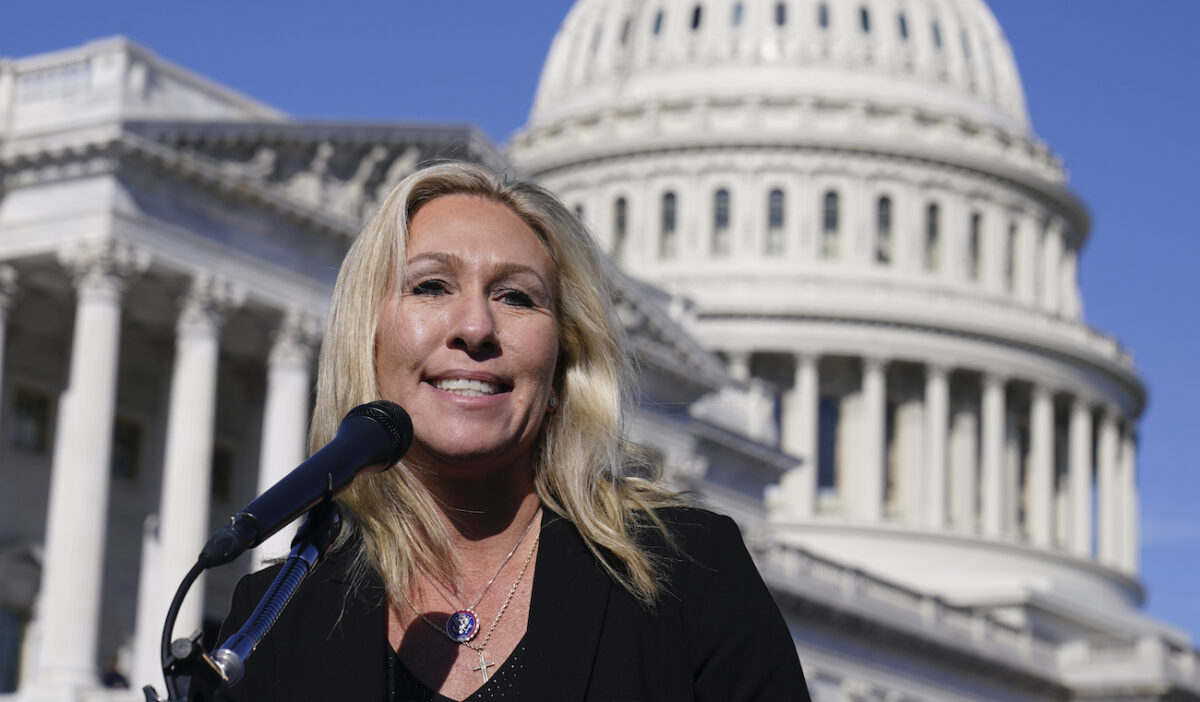 Greene took to Twitter to criticize the blowback around the document, calling it "a staff level draft proposal from an outside group that I hadn't read."
"The scum and liars in the media are calling me a racist by taking something out of context. This is just a repeat of Jewish Space Lasers. Another term I never used & the media made up. It's more proof so-called journalists lie and create false narratives. The media are the ones focused on race & use it to divide the American people with hate through identity politics," she wrote.
Greene also said on Twitter that she believes in the "America First" idea "with all my heart and that means every American, of every race, creed, and color."
"I will never back down and I will never stop fighting for America First. There are tens of millions of Americans who agree. We are side by side. People over politicians. The hyenas in the media are terrified. So are the Democrats. And so are the weak politicos that float around whichever the wind blows," she added.
"I have plans to drive President Trump's America First agenda with my Congressional colleagues but we won't let the media or anyone else push the narrative. America First policies will save this country for all of us, our children, and ultimately the world," she wrote.