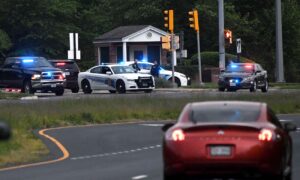 FBI agents shot an armed man after a standoff of several hours outside the CIA headquarters in McLean, Virginia, on Monday.
The FBI announced in a statement that there was an "agent-involved shooting" at about 6 p.m. and that an unidentified person had "emerged from his vehicle with a weapon and was engaged by law enforcement officers."
"The subject was wounded and has been transported to a hospital for medical attention. The FBI takes all shooting incidents involving our agents or task force members seriously," the FBI statement continued.
"The review process is thorough and objective, and is conducted as expeditiously as possible under the circumstances."
The unidentified man's condition is unknown as of late Monday.
A shooting occurred back in 1993 near the CIA headquarters when Mir Aimal Kansi, a Pakistani national, shot and killed two CIA employees and wounded three others while they were waiting at a stoplight to enter the compound.
Kansi fled the country and was later captured in Pakistan in 1997, extradited to the United States, where he admitted to shooting the victims. He was convicted of murder and sentenced to death. He was executed in 2002.