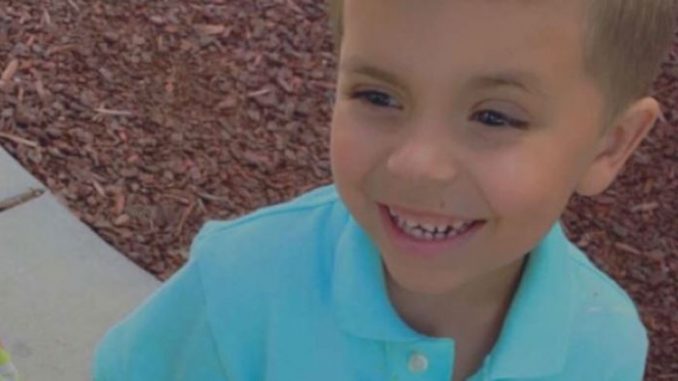 OAN Newsroom
UPDATED 7:20 PM PT – Friday, August 14, 2020
Condolences poured in from across the country after 5-year-old Cannon Hinnant was shot and killed last weekend. Family and friends came together for his funeral on Thursday.
During the service, which was held in Wilson, Cannon's grandfather said the family is heartbroken and in disbelief.
"We shouldn't even be here. …He (the shooter) took something away from us that should've never happened. Just kids trying have fun and something like this happens? Despicable." – Merrill Race, victim's great-grandfather
The boy's father, Austin Hinnant, was also in attendance. While speaking to reporters days earlier, he recounted the moments shortly after Cannon was fatally shot in his front yard.
He was riding his bicycle in front of his two sisters. Hinnant said he was inside at the time of the shooting and came running out.
"I just held him in my arms and I screamed, 'Somebody please help me save my son,'" stated Cannon's father. "'God, save my son, please.'"
Today is one of those news days that will stick with me. @bryanmimsWRAL and I had the chance to speak with Austin Hinnant, the father of Cannon. Cannon was shot in the head by their neighbor, who just the night before Austin had invited in to share a dinner. #CannonHinnant pic.twitter.com/qk0sNLPyqX

— Vinnie Boccanfuso (@VinnieBoccWRAL) August 13, 2020
The alleged shooter, 25-year-old Darrius Sessoms, is the family's neighbor of eight years. Austin Ginnant explained he had a good relationship with Sessoms prior to the incident and had even invited him over for dinner the night before the shooting.
On the day of the incident, eyewitnesses reported Sessoms ran up to young Cannon, unprovoked, and shot him. Officials quickly responded, but were unable to save the boy's life.
Sessoms was taken into custody the next day after fleeing the scene. He was found in the neighboring town of Goldsboro.
He is facing one count of first degree murder and has been arrested without bond. The motivation behind the killing remains unclear.
"I have no idea why he would kill my son in front of his two sisters and his cousins," added Cannon's father. "No idea."