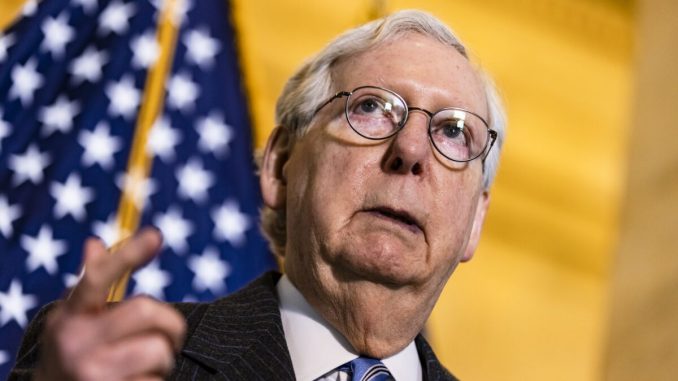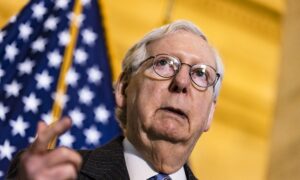 Thirty-seven Republicans led by Senate Minority Leader Mitch McConnell (R-Ky.) on Thursday penned a letter to Education Secretary Miguel Cardona urging him to remove the "1619 Project" from federal grant programs, arguing it skews American history for divisive political ends.
"Our nation's youth do not need activist indoctrination that fixates solely on past flaws and splits our nation into divided camps. Taxpayer-supported programs should emphasize the shared civic virtues that bring us together, not push radical agendas that tear us apart," McConnell and his GOP colleagues wrote in the letter (pdf).
The Republicans expressed concern that the Biden administration is seeking to prioritize funding educational programs that incorporate the ideas of the 1619 Project and critical race theory into their teaching of U.S. history and civics, reorienting bipartisan programs "away from their intended purposes toward a politicized and divisive agenda."
In a proposed new rule released April 19, the Education Department outlined new priority criteria for a $5.3 million American History and Civics Education grant, as well as exemplary materials for K-12 educators to use. Specifically, the Education Department cited the "1619 Project," and critical race theorist Ibram X. Kendi's "antiracism" as leading examples for the kind of content it wants to use taxpayer dollars to promote in history and civics classrooms across the country.
The "1619 Project," inaugurated with a special issue of The New York Times Magazine, attempts to cast the Atlantic slave trade as the dominant factor in the founding of America instead of ideals such as individual liberty and natural rights. The initiative has been widely panned by historians and political scientists, with some critics calling it a bid to rewrite U.S. history through a left-wing lens. Some historians have criticized the project over inaccuracies such as the American Revolution having been fought to preserve the institution of slavery rather than for seeking independence from Britain.
"Families did not ask for this divisive nonsense. Voters did not vote for it. Americans never decided our children should be taught that our country is inherently evil," McConnell and his colleagues wrote.
The Pulitzer Center, an advocate of the "1619 Project," provides a series of lesson plans for use in classrooms and says the project "challenges us to reframe U.S. history by marking the year when the first enslaved Africans arrived on Virginia soil as our nation's foundational date," referring to the date of 1619.
That's in contrast to the signing of the Declaration of Independence in 1776, the traditional date when the foundational principles of the United States were framed.
Some of the activities for children include directing them to read an essay by New York Times writer Nikole Hannah-Jones, which contains the central assertion that "the year 1619 is as foundational to the American story as 1776 … black Americans, as much as those men cast in alabaster in the nation's capital, are this nation's true 'founding fathers.'"
The curriculum urges students to read the essay and consider such issues as, "What evidence can you see for how 'some might argue that this nation was founded not as a democracy but as a slavocracy?'"
Thomas Mackaman, a history professor at King's College in Wilkes-Barre, Pennsylvania, told The Wall Street Journal that, in his view, the American Revolution didn't establish a "slavocracy," as Hannah-Jones suggests, but it instead "brought slavery in for questioning in a way that had never been done before" by "raising universal human equality as a fundamental principle."
In their letter, the Republicans characterized the "1619 Project" as "putting ill-informed advocacy ahead of historical accuracy," arguing that it serves to "double down on divisive, radical, and historically-dubious buzzwords and propaganda."
"Actual, trained, credentialed historians with diverse political views have debunked the project's many factual and historical errors, such as the bizarre and inaccurate notion that preserving slavery was a primary driver of the American Revolution," the letter states.
The Republicans concluded their letter with a call for the Education Department to "withdraw these Proposed Priorities and refocus on civic education and American history programs that will empower future generations of citizens to continue making our nation the greatest force for good in human history."
According to the Education Department, the reasoning behind its choices of examples is President Joe Biden's executive order that aimed to advance "racial equity" and better support "underserved communities."
"The Department recognizes that COVID-19—with its disproportionate impact on communities of color—and the ongoing national reckoning with systemic racism have highlighted the urgency of improving racial equity throughout our society, including in our education system," reads the Education Department document, which is undergoing a 30-day public review period in the Federal Register.
The proposed rule marks the Biden administration's latest move to teach American students that historical racism remains deeply embedded in today's America. On his first day in the White House, Biden dissolved the Trump administration's advisory 1776 Commission and tossed its first and last report, which called for a return to "patriotic education" focusing on how generations of Americans overcame racism to live up to the nation's founding ideals.
GQ Pan contributed to this report.