When Mission Viejo, Calif. resident Laura Wolf Trammel made the trek to Los Angeles to appear as a contestant on the long-running game show, Wheel of Fortune, she never expected to return to Orange County with a secret she'd have to keep for almost two months.
The Rancho Santa Margarita elementary school teacher, who refers to herself as a "true word- nerd," has been a fan of the show for years.
Trammel had often dreamed what it would be like to be on the stage of one of her favorite television game shows, so with her family's encouragement she submitted a contestant application last January.
"It all happened so quickly," Trammel recalled. "Within about two weeks of submitting my application I received a call from the show's contestant director. I did several Zoom interviews and a virtual quiz and the next thing I knew I was booked for a February 12 filming."
Wheel of Fortune shoots a week worth of shows in one day. Upon arriving, Trammel and the other contestants received instructions and prep on the adjacent Jeopardy game show staging area, where Trammel and two other contestants were assigned a Tuesday show taping.
For Trammel, also a Jeopardy fan, it all seemed surreal.
"I couldn't believe I was actually standing on the set of two of my favorite game shows that I've been watching for years," Trammel said when asked what it was like to be on a real Hollywood set.
"All the floors were a very shiny black, almost mirror-like, everyone on the crew was dressed in black, the cameras and booms were covered in black, even the ceiling was painted black. The set is much smaller than it looks on TV, but everyone was extremely professional, helpful and friendly—the entire experience was amazing."
Due to COVID-19 safety precautions, only hosts Pat Sajak and Vanna White, the contestants and the crew were allowed on the set. Each contestant was given a plastic wheel peg cover to use each time it was their turn to spin, which Trammel said was a bit tricky to master on top of trying to calm her nerves.
As she waited for her game to be called to the stage, the contestant producer coached her, saying that the 25-minutes of the taping would fly by, and to "just go out there, be yourself and have fun."
Once behind the big wheel, she felt relatively confident, yet by the first commercial break she hadn't won a penny. Rattled but not daunted, she soon rallied, solving several puzzles, winning a trip to St. Thomas and advancing to the next level.
Managing to get two out of three of the game's "triple toss up" questions, she won enough money to advance her to the final and bonus rounds.  At the finale, as she stood with Pat Sajak before a smaller wheel she would spin to determine if she'd win or lose it all, she kept her composure.
"Alright, it's a phrase.  You have 10 seconds….. that's good, she's smiling," said Kajak as Trammel was able to quickly give him the winning phrase "I caught a glimpse."
"As soon as I picked the letters for the phrase and they went up on the board I knew what it was," Trammel said.
And the Winner is….
What Trammel didn't know was that on top of the cash and vacation package, she had just won a brand new, custom luxury home in the tawny Florida community of Latitude Margaritaville.
"She sure did!  She caught a glimpse…. of her new home," Sajak exclaimed as he revealed the gold prize card and confetti rained from the ceilings.
As it turns out, Trammel is the first Wheel of Fortune contestant to ever win a home.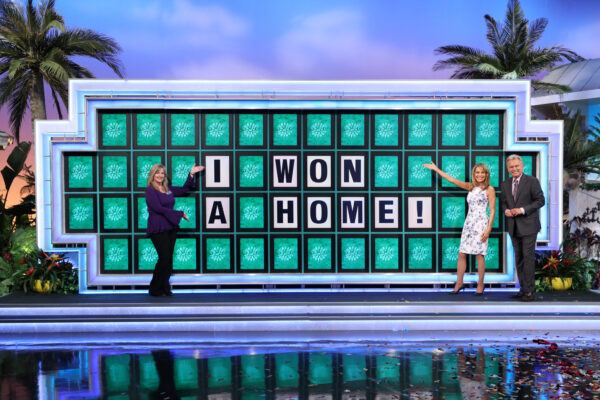 All in, she returned to Orange County that evening having won $15,900 cash, the Caribbean vacation, and custom Florida home for a grand total of $398,000.
Not a bad day for the Melinda Heights elementary school teacher, now Wheel of Fortune winner, who plans to travel to Florida with her husband in a few weeks to choose their new home's custom amenities. Trammel said they plan to take possession in 2022 once the home is completed.
Keeping a Secret from her Top Dogs   
Despite knowing that she had won, by contract, she could not divulge the news to a soul.  While the show was taped on Feb. 12, it would not air until April 27.
"It was really hard to keep it a secret, especially from my 6th grade class," Trammel said.  "I call them my 'top dogs' and I made sure to give them a shout out during the show. I couldn't wait to share it with them."
Arriving at the school April 28 after the show had finally aired, Trammel was greeted by cheering students and fellow colleagues, the principal made a special announcement over the PA system, one child held a sign that read "Take me to St. Thomas! #stowaway."
"It was the event of a lifetime," Trammel said.  After the past year of school shutdowns, furloughs, teaching virtually from home, missing her students and they missing her, she said the merriment was a needed respite for them all.
"It's been a tough year for everyone, so I'd say the best part of my experience as a Wheel of Fortune contestant is getting to share and celebrate winning with family and friends, and especially my students."