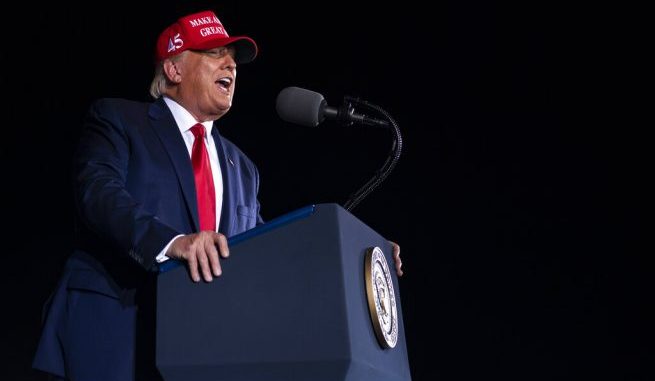 OAN Newsroom
UPDATED 7:59 AM PT – Monday, November 2, 2020
President Trump is encouraging Americans to get out and vote. He took to Twitter Monday to note that early voting is closing in Nebraska, Michigan, Minnesota and Ohio.
As long as I'm in office, NEBRASKA, MICHIGAN, MINNESOTA, and OHIO will bounce back Bigger and Better than ever before! Early Vote polls close today in these Great States and we need YOU to get out and VOTE! Together, we'll MAKE AMERICA GREAT AGAIN!! https://t.co/7KiL8PyWqG

— Donald J. Trump (@realDonaldTrump) November 2, 2020
The President said as long as he's in office these "great states will bounce back bigger and better than ever before." He also released a video on Twitter encouraging Americans to cast their ballot early.
Good Morning! Let's #MAGA! https://t.co/gsFSghkmdM pic.twitter.com/MF4A9aDG0R

— Donald J. Trump (@realDonaldTrump) November 2, 2020
President Trump stated, "together we'll make America great again." His remarks came after he pushed back on delayed vote counting amid a major rise in mail-in ballots.
After a full day of campaigning Sunday, the President asserted counting votes past election night is "a terrible thing." His comments came just days after a Supreme Court ruling allowed for Pennsylvania election officials to accept absentee ballots arriving as late as three days after voting day.
President Trump asserted this measure gives Democrat leaders too much power, which could potentially lead to fraudulent election results.
Meanwhile, the President said he plans to send lawyers to swing states to review the counting process once the election is over.