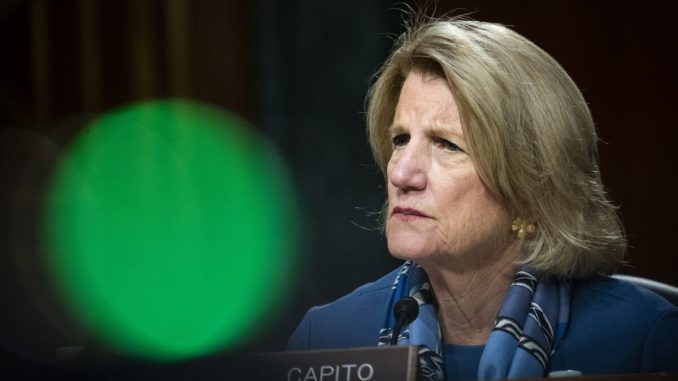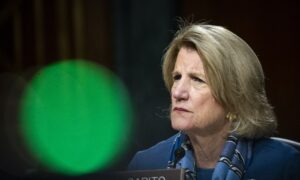 Republican senators outlined a $928 billion infrastructure proposal on Thursday, in their ongoing effort to negotiate with President Joe Biden's initial $1.7 trillion package.
Senator Shelley Capito (R-W.Va.) told reporters at a press briefing that she has been involved in several months of negotiations with the White House and thinks this bill is a good bipartisan compromise. The GOP bill includes Biden's demands while staying focused on core physical infrastructure.
"We believe that this counteroffer delivers on what President Biden told us in the oval office that day, and that is, to try to reach somewhere near a trillion dollars over an eight-year period of time," said Capito.
The Republicans offer $506 billion for roads, bridges, and major infrastructure projects, including $4 billion for electric vehicles; $98 billion for public transit; $72 billion for water systems; $65 billion for broadband; $56 billion for airports; $46 billion for passenger and freight rail systems; $22 billion for ports and waterways; $22 billion for water storage; $21 billion for safety efforts; and $20 billion for infrastructure financing, according to the bill's factsheet.
Republicans have rejected Biden's planned corporate tax increase to pay for the infrastructure investments. Instead, they want to use unspent pandemic relief funds to help cover the costs of their legislation.
"It's a serious effort to try to reach a bipartisan agreement," said Capito, the lead GOP negotiator.
The Republican senators said they think while Biden has shown a willingness to work with the GOP, they are not sure about Senate Majority Leader Chuck Schumer (D-N.Y.) and Speaker of the House Nancy Pelosi (D-Calif.) doing the same.
"On the other hand, you have the Democrats demanding for $6 trillion and now $7 trillion in spending for a whole lot of different things, so they may override the President on this, overrule him, and that's what my concerns are with Nancy Pelosi and Chuck Schumer. And what is basically socialism camouflaged as infrastructure, which is the direction that they're heading with massive tax increases which are going to hurt the economy, massive spending," said Senator John Barrasso (R-Wy.).
Meanwhile, Sen. Elizabeth Warren (D-Mass.) told MSNBC on Thursday it wasn't "a serious counteroffer."
"First of all, they don't have pay-for for this, it's not real," the progressive Democrat "They have this illusory notion of how we're going to take money that's already been committed to other places and another spending."
The New England Democrat added that she also wants to see the GOP senators address green infrastructure, with more emphasis on electric vehicles and investments in childcare.
The GOP package does not include the Biden administration's priorities such as $400 billion to expand home care services and childcare services or $328 billion to upgrade schools, childcare facilities, and hospitals.
Capito said the alternative to their bipartisan infrastructure package would be that the Democrats pass another partisan bill.
"And we're hoping that this moves the ball forward. We believe that the alternative, which is a partisan reconciliation process, would be destructive to our future bipartisan attempts but also doesn't serve the American public," said Capito.
The White House did not immediately respond to a request to comment on the Republican offer.
Sen. Roger Wicker (R-Miss.), ranking member of the Senate Committee on Commerce, Science, and Transportation, said the proposal set by Republicans is a solid infrastructure bill that he hopes can be agreed on.
"This is a good faith proposal that avoids hiking taxes on job creators and small businesses. The President indicated he would accept a funding target of at least $1 trillion, and we hope he will accept this offer so we can provide critical upgrades to our nation's infrastructure," said Wicker in a press statement.