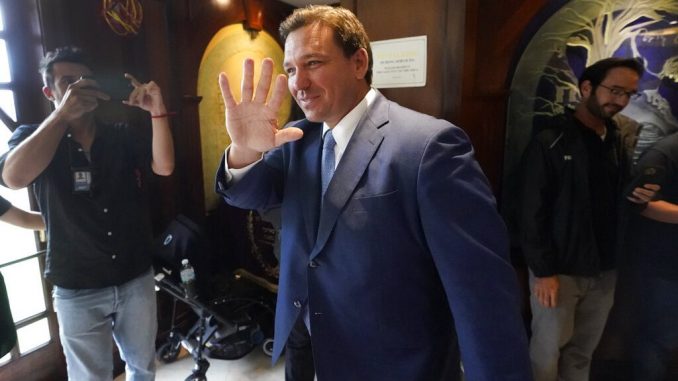 OAN Newsroom
UPDATED 10:58 AM PT – Friday, June 18, 2021
Florida Gov. (R) held a roundtable to discuss how the Sunshine State will deal with the harmful red tide phenomenon on its gulf coast. He met with officials on the Red Tide Task force in Saint Petersburg on Thursday to discuss mitigation efforts and future technology that could help with the dangerous algae bloom along Florida's coastline.
The algae bloom, known as the red tide due to the way it discolors the water to appear murky and red, kills fish and hurts tourism the economy relies on. The red tide also causes serious health conditions for people living near affected beaches and are especially dangerous to people with respiratory problems.
"I recommended the creation of the Center for Red Tide Research in my first budget back in 2019," stated the governor. "The center was established within the research institute and has received $4.8 million each year to detect track and mitigate red tide and to support the task force."
Additionally, DeSantis signed a Senate bill in 2019 that established the Red Tide Mitigation and Technology Development Initiative to develop new technology and approaches to help reduce the negative effects it has on the economy as well as the health of Floridians and tourists. The bill allocated $3 million per year for six years, totaling $18 million, and DeSantis confirmed over 20 projects are under way.
This morning's round table, hosted by @GovRonDeSantis, provided an update on the state's efforts in red tide research, mitigation and communication. Watch the roundtable here 👇https://t.co/IKaVhAUvhO. (2/2)#ProtectingFLTogether

— Florida DEP News (@FLDEPNews) June 17, 2021
Florida Fish and Wildlife Conservation Executive Director Eric Sutton explained how technological advances have bettered communication of the red tide to residents, visitors and businesses, so they can plan accordingly and be aware of the phenomenon and its dangers.
"We have an interactive map out there anyone can go to and see in almost real time, where red tide is occurring," he explained. "And often it's patchy, it's localized, it's not widespread and it's important for us to communicate that."
Sutton added, they also provide weekly updates on the map and network of partners with local governments and tourism officials to ensure they have all the information to help protect the economy as well as public health.
The oceans depth around West Palm Beach has made it a target for the red tide and DeSantis said the dangerous algae has been a recorded problem in Florida since the 1840s. The Republican governor's meeting comes as Tampa Bay beaches reported multiple cases of red tide earlier this week.
DeSantis explained the goal is to lessen the harmful effects it has on the people who could face health risks and the economy.