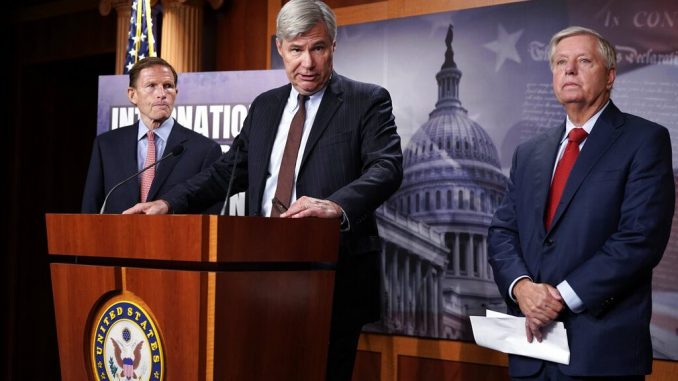 OAN Newsroom
UPDATED 12:14 PM PT – Friday, June 18, 2021
Senators on Capitol Hill introduced legislation aimed at cracking down cyber criminals. On Thursday, Sen. Lindsay Graham (R.S.C.), Sen. Sheldon Whitehouse (D-R.I.) and Sen. Richard Blumenthal (D-Conn.) set in motion the International Cybercrime Prevention Act, which looks to ramp up penalties for hackers targeting critical infrastructure.
"The way to think of this bill is an infrastructure bill because we're protecting infrastructure and we're taking down infrastructure that belongs to the cyber criminals," stated Blumenthal. "And stopping the safe harbors because obviously the cyber criminals are using a form of currency that can be so easily laundered."
The bipartisan legislation would also increase the Justice Department's ability to combat botnet groups, while cracking down on the sales of certain spyware devices and other hacking equipment. The measure would allow injunctions against botnets engaged in the destruction of data, destructive cyber attacks or other certain violations of the Computer Fraud and Abuse Act.
The bill was previously introduced back in 2018 by the same co-sponsors, but did not land a single vote in the Senate. The legislation was brought forth once again as both Republican and left-wing lawmakers continued to call for action due to a recent number of critical organizations becoming the victims of targeted cyber attacks.
"And we have known for over a decade that ransomware was a method of cyber attack, and we have spent billions of dollars to try to deal with this," Whitehouse stated. "So when Colonial Pipeline, the biggest fuel pipeline in the United States of America, falls to a ransomware attack that is a powerful signal things have not gone well in response to this."
Graham said the bill would assist with apprehending cyber criminals behind recent attacks who are believed to be working for the Russian government. This came after Joe Biden warned Russian President Vladimir Putin of 16 critical kinds of infrastructure that are "off limits."
"I don't think Putin is going to stop until the pain is real," the South Carolina lawmaker told reporters. "I think the likelihood of criminal enterprises this large operating in Russia without his knowledge is zero and the offensive capability of the United States is large."
Graham also assured private companies hackers are not a force to reckon with and to take cyber security more seriously.
"You should join with us to harden your infrastructure in a reasonable way and the reward would be liability protection," he stated. "If we're not doing that, we're not doing the most we can in America to protect ourselves from what we know to be a wide and deep threat."
In the meantime, the Senate took a step further in crushing cyber attacks on Thursday after appointing former National Security Agency Deputy Director Chris Inglis as the first White House National Cyber Director.
A privilege to introduce Chris Inglis, President Biden's nominee to serve as the nation's first National Cyber Director, to @HSGAC today. Chris is a deeply experienced, uniquely talented leader, and I believe he is the right person to take on the cyber challenges facing America. pic.twitter.com/mIJXWqbGHV

— Senator Angus King (@SenAngusKing) June 10, 2021