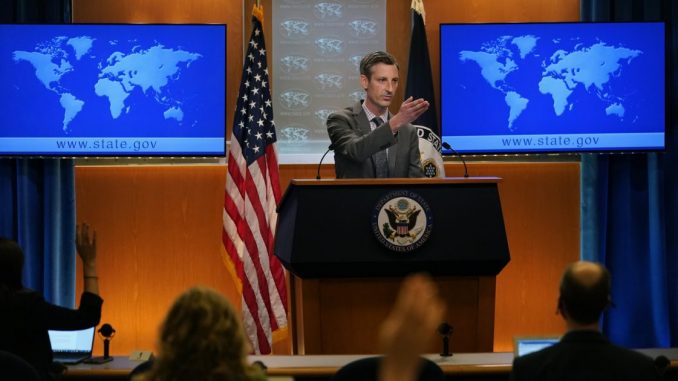 OAN Newsroom
UPDATED 9:32 AM PT – Tuesday, April 6, 2021
Joe Biden's State Department has continued its policy of appeasement of Iran while touting a gradual restoration of the failed 2015 nuclear deal.
While speaking to reporters on Monday, spokesman Ned Price seemed to ignore the growing threat in the Middle East while claiming current talks with Iran are heading in the right direction.
"But we do believe that these discussions with our partners, and in turn our partners with Iran, is a healthy step forward," he stated.
Department officials said the indirect talks with Iranian and European diplomats in Vienna this week are aimed at "constraining Iran's nuclear program." The diplomats also denied Biden will give concessions to Iran. However, they did admit they seek to restore the nuclear deal, which is known to favor the Ayatollahs.
"Our goal at these talks in Vienna, again, is to set the stage for that mutual return to compliance," Price explained. "The original formulation is one that still holds today: it's the limited lifting of sanctions, nuclear sanctions, in return for permanent and verifiable limits on Iran's nuclear program."
In a statement Sunday, however, the deputy Iranian foreign minister said there will be no "direct or indirect talks" with the U.S. on the country's nuclear program throughout the week. He said Biden has to lift all sanctions on Iran and pay compensation before any talks can begin.
April 6—Tehran, #Iran

Government spokesperson Ali Rabiei:

"Our principled position is crystal clear & it will be repeated by our negotiators. As mentioned time & again, there will be no negotiations between the representatives of Iran & the U.S." pic.twitter.com/bieNUqoZXo

— Heshmat Alavi (@HeshmatAlavi) April 6, 2021
Critics have said Biden is restoring the deal with Iran in exchange for the Iranian meddling in last year's elections, which helped the Democrats.