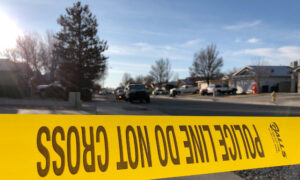 Police in Virginia have launched a manhunt for suspects accused of the shooting deaths of a married couple with past military experience, officials confirmed Wednesday.
Edward McDaniel Jr., 55, and his wife Brenda McDaniel, 63, were gunned down around 9:30 p.m. in the front yard of their own home located on Flint Street in Springfield, officials said during a press briefing.
"We responded to a brutal double murder, where a man and a woman—a husband and a wife—two distinguished military veterans, were gunned down in their front yard," Fairfax County Police Chief Kevin Davis said.
"They served our community for many many years … they were shot and killed in cold blood," he added.
Authorities are still searching for possible suspects in the double homicide and have released information about a 2018 light-colored Nissan Altima with Maryland plate number 1EF1479 which fled the scene at the time of the crime.
Both victims were retired from the military and served as medical professionals. They were declared dead at the scene by rescue personnel after suffering from multiple gunshot wounds, authorities said.
"They were both physicians, honorable soldiers, and members of the United States military service—both retired," said Ed O'Carroll, bureau chief of Major Crimes Cyber and Forensics for the Fairfax County Police Department (FCPD).
"They did nothing wrong," he added.
O'Carroll explained that detectives believe the homicide is related to an attempted burglary that was reported on Monday at the home of the McDaniel's, though the investigation is still ongoing and a motive is currently unclear.
"I think there's a direct correlation between who was there Monday and who was there today," the major said, adding that the key to the investigation is finding the light-colored Nissan Altima and its driver.
O'Carroll said a $10,000 reward for information leading to an arrest of the person(s) responsible is being offered. Those with information can call the department at 703-691-2131.
The deaths of the married couple marked the ninth and tenth homicides in Fairfax County this year, O'Carroll said, while stressing that those deaths are "nine and ten too many."
From NTD News