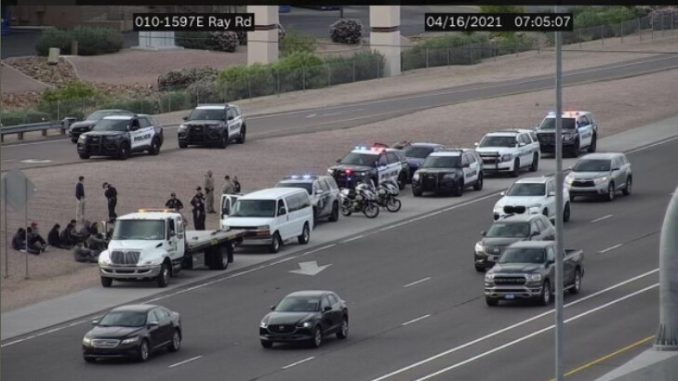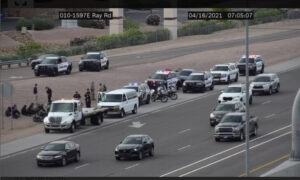 The Arizona Department of Public Safety said state troopers were forced to release 17 illegal aliens after Border Patrol and Immigration and Customs Enforcement (ICE) both declined to take them into custody.
A state trooper initiated a traffic stop early on April 16 and discovered the 17 illegal aliens in the vehicle, the Department of Public Safety (AZDPS) wrote on Twitter. The driver was a U.S. citizen.
The incident occurred in Chandler, near Phoenix.
"AZDPS requested assistance from Immigration [and] Customs Enforcement & the U.S. Border Patrol to take custody of the undocumented aliens, both agencies declined the request," the department wrote on Twitter.
"Absent response from the agencies with jurisdiction on immigration violations, the AZDPS trooper issued the appropriate citations for the traffic violations, impounded the vehicle, and was forced to release the subjects."
Arizona Gov. Doug Ducey also responded on Twitter with a scathing rebuke of the Biden administration, saying it "needs to get its head out of the sand when it comes to the crisis at our border."
"This administration is asleep at the switch, and their total lack of action is having real consequences here in the state of Arizona," he said. "I've met with our Border Patrol and they need help, and they need the support of the administration."
Ducey called for the National Guard to be deployed to the Arizona border.
ICE didn't respond by press time to an Epoch Times query about why it declined to take the 17 aliens into custody.
However, on Jan. 21 President Joe Biden issued an executive order that paused deportations for 100 days. The Department of Homeland Security then issued guidance on Feb. 18 for handling the arrest, detainment, and deportation of illegal immigrants.
Under the guidance, illegal immigrants who entered the country after Nov. 1, 2020, are an enforcement and removal priority. However, ICE agents must seek approval from their leadership before taking into custody an illegal alien who isn't a convicted felon, a terror suspect, or a criminal gang member.
So far this fiscal year (which began Oct. 1, 2020), Border Patrol has apprehended almost 570,000 illegal aliens along the southern border, with the last several months showing a trajectory that's on track to compete with the highest number of apprehensions recorded—1,692,544 captured in fiscal 1996.