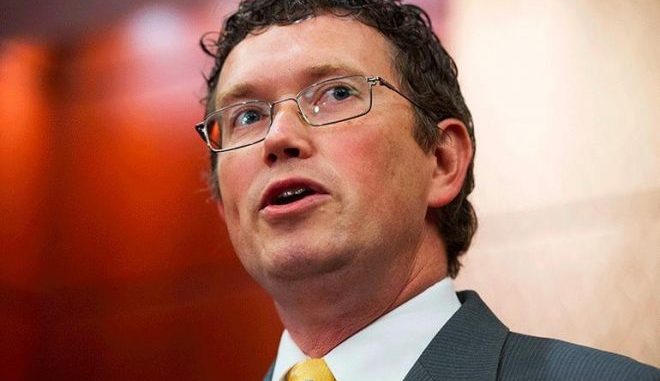 OAN Newsroom
UPDATED 10:41 AM PT – Tuesday, February 2, 2021
Congressman Thomas Massie (R-Ky.) has claimed the Centers for Disease Control and Prevention (CDC) is misleading Americans when it comes to guidance on who should receive coronavirus vaccinations.
According to reports Tuesday, the representative said the CDC should not be encouraging those who have recovered from the coronavirus to receive the vaccine because they already have natural immunity.
Massie noted, Pfizer's phase three trial shows the vaccine did not increase immunity for individuals who have already recovered from the disease despite false claims from the CDC stating otherwise.
The Pfizer vaccine trial did NOT demonstrate a benefit for those with evidence of prior SARS-CoV2 infection. The @CDCgov acknowledged that to me privately but says the opposite publicly. Watch and RT this report to get the word out. https://t.co/YhVeOGj3Nt

— Thomas Massie (@RepThomasMassie) February 1, 2021
The lawmaker has repeatedly spoke to health officials, urging them to correct their guidance. However, he said the misleading information remains on the site.
"And instead of fixing it, they proposed repeating it and just phrasing their mistake differently," explained the Kentucky Republican. "So at that point, I consider it a lie; I think the CDC is lying about the efficacy of the vaccine based on the Pfizer trials for those who already had the coronavirus."
We are living the movie "Idiocracy" now.

The very meaning of "science" has been perverted for this virus.

Baseless claims with no quantification are being made by the government, repeated by the media, and accepted by public.

Meanwhile our quality of life diminishes.

— Thomas Massie (@RepThomasMassie) February 1, 2021
Massie said he's concerned the false information will cause lower risk individuals to receive the vaccine before high risk people despite vaccines already being in short supply.
In the meantime, the CDC's website still recommends those who have recovered from the virus to be inoculated.