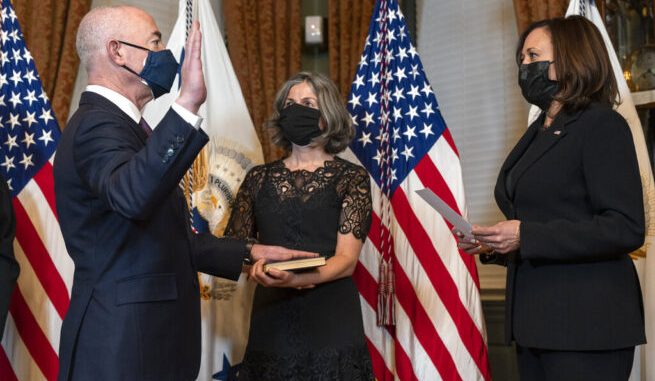 OAN Newsroom
UPDATED 5:00 PM PT – Tuesday, February 2, 2021
The Senate confirmed Joe Biden's controversial pick to lead the Department of Homeland Security. On Tuesday, the upper chamber voted 57-42 to confirm Alejandro Mayorkas as the agency's secretary.
#NEW The Senate confirms Alejandro Mayorkas as DHS Secretary in a 57-42 vote

— Greta Wall (@GretaLWall) February 2, 2021
The Obama-era official has faced mounting criticism over a past inspector general's report, which detailed political favors Mayorkas doled out during the Obama years. The report said he gave out visas to elite Democrats when he was head of Citizenship and Immigration Services.
Before the vote on Tuesday, Senate Minority Leader Mitch McConnell (R-Ky.) went into detail about the IG report on the Senate floor.
I've voted for several of President Biden's mainstream cabinet nominees. But his choice to run Homeland Security was blasted by the Obama Administration's own Inspector General for running an immigration law favor factory for powerful Democrats. Bad pick with major ethics issues.

— Leader McConnell (@LeaderMcConnell) February 2, 2021
"As a high ranking official in the Obama administration, Mr. Mayorkas did his best to turn U.S. Citizenship and Immigration Services into an unethical favor factory for Democratic party royalty," McConnell stated. "Governors, the DNC chair, Hollywood executives, a Senate majority leader from Nevada; they all received special treatment to the degree that stunned and disturbed the Obama's administration own inspector general over at that department."
McConnell said Mayorkas does not deserve to be DHS secretary and he does not deserve a lower post at the department either.