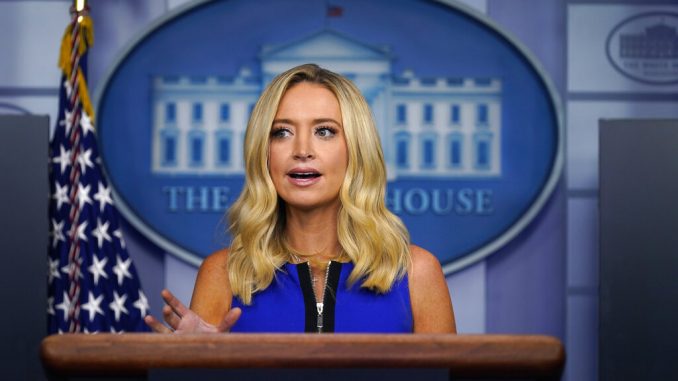 OAN Newsroom
UPDATED 1:15 PM PT – Thursday, September 3, 2020
The White House has refuted Democrat claims that President Trump is pushing to get a COVID vaccine in order to boost his reelection chances. On Thursday, Press Secretary Kayleigh McEnany stated such accusations are false and emphasized the development of COVID vaccine is free of any political motives.
"No one has pressured the FDA to do anything," she said. "This is, again, a bizarre theory spun by CNN, among others."
Sen. Chuck Schumer (D-N.Y.) recently made this claim in an attempt to discredit what some Democrats have called "the Trump vaccine."
McEnany reiterated the FDA itself has proven Schumer wrong.
"You had Dr. Hahn who said this: 'I can assure you 100% that the president has never pressured me to make a decision regarding any regulatory aspect of the FDA's work.' He said that just a few months ago, it is absolutely the case. You had Secretary Azar saying this morning about the vaccine whether it's October 15th, November 1st or November 15th, this is all about saving lives." – Kayleigh McEnany, White House Press Secretary
She added even Dr. Anthony Fauci has admitted there is no political motive behind the accelerated effort of battling COVID-19.
This came after the CDC urged governors to prepare for widespread vaccine distribution by November 1st. In a letter released Wednesday, Director Robert Redfield announced the center had reached a deal with McKesson Corp to distribute a potential vaccine.
According to Redfield, the effort will be a massive undertaking. He has called on governors to help expedite the drug's release efficiently.
The CDC director also requested states waive requirements preventing distribution centers from being fully operational by fall.
Hospitals have also been asked to prepare for distribution as soon as possible.