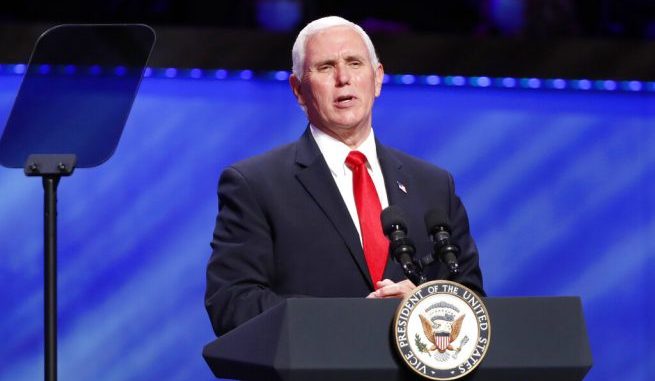 OAN Newsroom
UPDATED 11:10 AM PT — Sunday, June 28, 2020
Vice President Mike Pence has called on Americans to hold fast to their faith during these trying times. While speaking at First Baptist Dallas Church in Texas this week, Pence quoted the president by saying "faith and family is the true way of life, not government and bureaucracy."
He added that morality and virtues are the founding pillars of our nation, which both come from faith in God.
Pence condemned the violent riots that have taken place across the country. He claimed burning churches and taking down statues is not a form of protest. He reiterated those committing the criminal acts will be prosecuted to the fullest extent of the law.
The vice president then called on Texans to pray for their country and to cling to hope.
"American Christians have hope. We remember the countless triumphs we've won, even in our darkest hours. Victories against empires, against injustice, against diabolical tyrannies across the world. During these times, we'd do well to remember that the foundation of America is freedom, but the foundation of freedom is faith." – Mike Pence, Vice President of the United States
He also met with Texas Governor Greg Abbott to address the surge of positive coronavirus cases in the state. According to the vice president, the Trump administration has encouraged wearing masks on a case-by-case basis.
On Sunday, Pence said Americans should wear face coverings when they are unable to maintain social distance or when local authorities call for it. He pointed out that he and the president have both worn masks on several occasions.
He went on to say that every state is experiencing the coronavirus at different levels, which calls for varying responses.
"One of the elements of the genius of America is the principle of federalism, of state and local control," he said. "We want to defer to local officials."
In the meantime, the administration has been adapting testing efforts to meet Americans' needs.