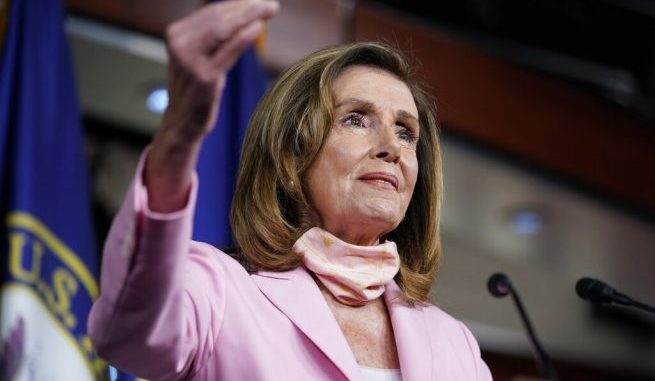 OAN Newsroom
UPDATED 7:05 AM PT – Tuesday, August 25, 2020
House Speaker Nancy Pelosi is under fire for labeling President Trump and congressional Republicans as "domestic enemies" of the state.
"The domestic enemies to our voting system and honoring our Constitution are right at 1600 Pennsylvania Avenue with their allies in the Congress of the U.S.," she stated during an interview.
During that same interview, Pelosi accused Republicans of suppressing the vote due to their attempts to ensure the election is free of voter fraud. The House speaker reiterated calls for increased U.S. Postal Service funding and universal mail-in voting.
"Let's just get out there and mobilize, organize and not let the President deter anybody from voting, and again support the postal system which is election central," said the House speaker. "Diminish the role of the postal system and all of this, it's really actually shameful…enemies of the state."
In response to Pelosi's comments, House Minority Leader Kevin McCarthy took to Twitter to tell his constituents to never forget that Democrats despise GOP voters.
In 2016, they called you "Deplorables."

Now, Nancy Pelosi calls all Republicans "domestic enemies."

Never forget —> They despise you. And the worst part is they don't even try to hide it. pic.twitter.com/CP8yagYAHT

— Kevin McCarthy (@GOPLeader) August 24, 2020