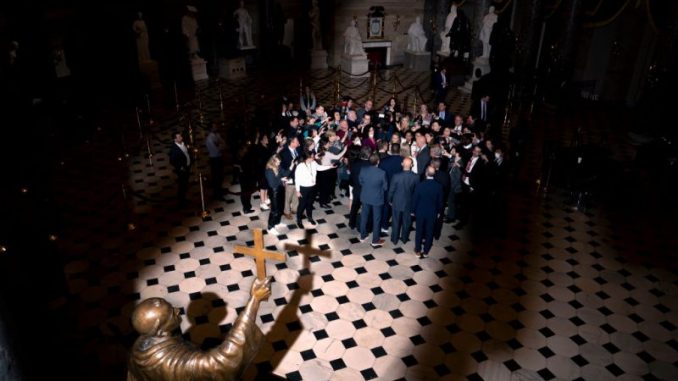 OAN Geraldyn Berry
UPDATED 5:33 PM PT – Friday, January 6, 2023
Progress is made as McCarthy managed to flip more than a dozen holdouts as he continues to preserve in his bid to become Speaker of the House on Friday.
For the 12th vote, Rep. Hakeem Jeffries (D-N.Y.) received the unanimous support of his caucus. House Minority Leader Kevin McCarthy was nominated by Rep. Mike Garcia (R-Calif.). Republicans also nominated Rep. Jim Jordan (R-Ohio) and Rep. Kevin Hern (R-Okla.). Republicans also nominated Rep. Jim Jordan (R-Ohio) and Rep. Kevin Hern (R-Okla.).
The final tally for the 12th round was 213 for McCarthy, 211 for Jeffries, 4 for Jordan, and 3 for Helm.
After four days of failing to secure a deal with Conservatives who oppose him through negotiations, the tides have turned for the House Minority Leader.
The Republican was able to flip 14 GOP standouts with seven still voting against him. He has managed to lose the majority of vote, 11 votes in total, to his Democratic counterpart in a GOP-controlled chamber.
McCarthy's office along with a group of his allies were able to convince his opposers to flip votes and support him.
Among the notables who switched their vote for McCarthy are Rep. Byron Donalds (R-Fla.), Rep. Chip Roy (R-Texas), and Rep. Dan Bishop (R-N.C), and Rep. Scott Perry (R-Pa.).
Rep. Victoria Spartz, had voted "present" on previous speaker ballots but flipped and told Fox News, "I'm happy to see a positive change of tone and having the conversations."
When asked, Donalds refused to explain why he had swapped his vote for McCarthy.
The agreement made, according to Perry, was specifically committed to adopting a House budget resolution that restricts discretionary expenditure for the fiscal year 2024 to levels equal to or lower than those of the fiscal year 2022.
In Rep.-elect Josh Brecheen's words, it was due to "a potential transformative deal that can outlive any speaker up here on rules.  
By the 13th round, 15 GOP votes had switched to his favor in total in the 13th round of voting. The final Republican to flip was Rep. Andy Harris (R-Md.)
However, the remaining standouts are still McCarthy's team's biggest obstacle. The opposition consists of Rep. Matt Gaetz (R-Fla.), Rep. Andy Biggs (R-Ariz.), and Rep. Lauren Boebart (R-Colo.) who has not been won over after hours of extensive dealings.
"You only earn the position of speaker of the House if you can get the votes. Mr. McCarthy doesn't have the votes today, he will not have the votes tomorrow, and he will not have the votes next week, next month, next year," Gaetz said.
Although McCarthy has gained some momentum, the current Minority House Leader is still unable to hold the 218 votes he needs to obtain for Speakership.
Sources have said that getting some of the holdouts to vote "present" is one aspect of McCarthy's plan to win the vote for Speaker.
Given that the process has already dragged on for four days, the present race for House speaker is the one with the longest running campaign in 164 years.
The House adjourned until Friday night in a continuation of defeat for McCarthy.
No member of Congress can be sworn in until a House speaker is elected.