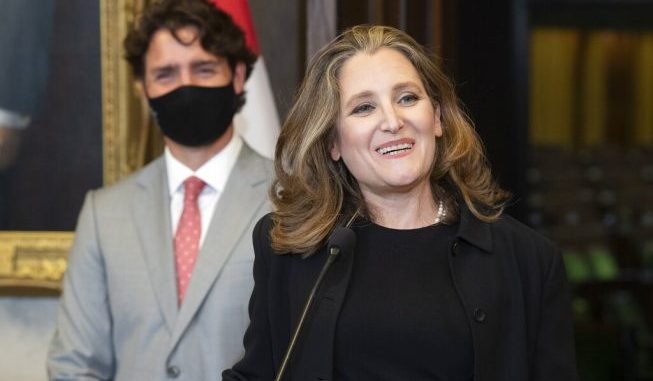 OAN Newsroom
UPDATED 9:07 AM PT – Wednesday, August 19, 2020
Canadian Prime Minister Justin Trudeau has named Deputy Prime Minister Chrystia Freeland as the nations first female finance minister. He made the announcement Tuesday, following the resignation of Bill Morneau on Monday.
Freeland, who will continue to serve as deputy prime minister, said the restart of Canada's economy has to be equitable, inclusive and focus on jobs as well as growth. She also spoke about the government's commitment to the Canadian people amid the coronavirus pandemic.
"The coronavirus is still with us, this is a once in a lifetime challenge for our whole country and our commitment as a government is to do whatever it takes to support Canadians as we get through that challenge," she stated. "And as we get through it, to really build back better."
It is both an honour and a privilege to be named Canada's first female Minister of Finance. I am eager to continue our govts work of helping ??s from coast to coast to coast get back on their feet. Together, we will ensure Canada's economy bounces back from these difficult times.

— Chrystia Freeland (@cafreeland) August 18, 2020
While speaking on her historic appointment to finance minister, Freeland said it's about time women broke "that glass ceiling."
Chrystia Freeland, currently @DeputyPM_Canada and Minister of Intergovernmental Affairs, becomes Minister of @FinanceCanada. She will also remain Deputy Prime Minister. https://t.co/iSqYtbUc0j

— CanadianPM (@CanadianPM) August 18, 2020